How to remove CryptoWall ransomware virus from your computer?
CryptoWall is another ransomware virus, similar to CryptoLocker. It can infect user's computer by tricking users to open spam emails attachments, install fake updates or fake antivirus software. If your system is already infected by some Trojan it can download CryptoWall ransomware without your consent. Once installed, CryptoWall will start collecting information about user's computer. It will scan registry and after getting the list of files it will encrypt them. Mostly it affects files with the extensions *.doc, *.docx, *.xls, *.ppt, *.psd, *.pdf, *.eps, *.ai, *.cdr, *.jpg, etc. Those are the most popular files and usually the most important. After encrypting files, victim will be asked to pay ransom in amount of 750 euros to get unique key that can decrypt files. The payment can made only via BitCoins.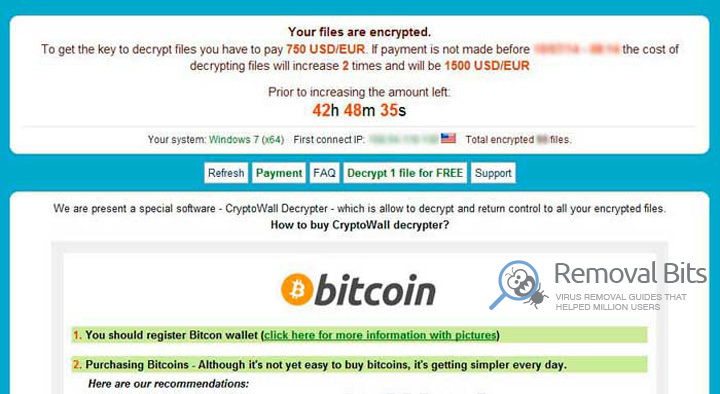 CryptoWall ransomware can infect any Windows operating system including Windows XP, Windows Vista, Windows 7, Windows 8/8.1 and Windows 10. After infecting with CryptoWall you may find 3 files Help_decrypt.png, help_decrypt.html and help_decrypt.txt. Those files will provide you with the instruction of payment and how to unlock your files after paying ransom. CryptoWall ransomware uses RSA 2048 encryption algorithm, which creates unique key to be able to decrypt files. The key is stored on the remote server of cyber criminals in TOR network (anonymous network), so they can hide from the authorities. To be honest, it's not hard to remove CryptoWall virus infection, however it's nearly impossible to decrypt files without the unique key, which you can get only by paying ransom. But you should also know that paying a ransom does not guarantee that cyber criminals will send you the key. Also, you are risking to be scammed and left without money and the key. By paying the ransom you are encouraging cyber criminals to continue their illegal business.
At the moment the only solution when you got infected by CryptoWall is to remove the ransomware with the help of our comprehensive guide written below or use the automatic removal tool and after that restore your data from backup or you may try to restore your computer to previous state. But it is important to remove the infection first, otherwise it will simply encrypt your files once again.
To protect you from CryptoWall and other ransomware, adware, spyware and malware it is recommended to avoid visiting suspicious websites, downloading and installing freeware programs from torrent portals and unofficial websites. Also, never open a spam email attachments, neither install updates for Java and Adobe Flash player from unofficial websites. During the installation of the programs always pay attention to the end users license agreement and opt for custom installation to be able to select what you want to install from optional downloads.
CryptoWall Removal Instruction
Automatic Removal for CryptoWall
Symptoms of CryptoWall infection on your computer can be: computer crashes, unusual homepage or search engine on your browser, unwanted pop-up ads and advertising banners. We recommend to download our automatic removal tool. This removal tool has been tested for CryptoWall threat removal and it is easy to use.
You are running:
Windows
.
This Tool is Compatible With:





For quick and easy removal of CryptoWall threat, we recommend to download SpyHunter 4 removal tool. SpyHunter 4 by Enigma Software is an anti-malware utility certified by West Coast Labs Checkmark Certification System. Enigma Software has been awarded by various media sources such as CNN.com, USA Today, PC World and Forbes.com. Our tests have proved that SpyHunter 4 has one of the supreme detection and removal ranks for CryptoWall.
Removal CryptoWall with the help of technical experts
If you have difficulty to remove CryptoWall threat by using an automatic removal tool or you have any questions, you can call our professional technical support and they will gladly help you.
Need help? Call us to get
expert technical support