What is fade.exe? How to remove it from my PC?
Fade.exe is not a system process, even though, it may have something related with Microsoft or Google in its description. However, if you see this process in your Task Manager you should take immediate actions. First of all let's find out what is fade.exe process.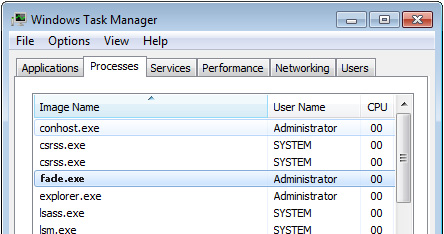 Fade.exe is a dangerous process, related with viruses and Trojans. It can be some keylogger that will record all what you type with your keyboard and send it to the remote server of cyber criminals, where they can analyze the information and extract your passwords, logins and other data from it. You may become a victim of credit card fraud or identity theft. Also, you may lose your email and social network accounts. Also this process can open a backdoor for rootkits and other malware. Your antivirus protection may be disabled. If you see Fade.exe in the attachment of some spam email, in any case do not launch it, because once executed it will perform multiple malicious activities and you won't be able to stop it.
Recently, Fade.exe was distributed through two mods for Grand Theft Auto V (GTA 5) called "Angry Planes" and "No Clip". In this case victims were infected with keylogger and all of their private information was exposed.
Your antivirus might not detect the presence of Fade.exe, that's why we recommend to scan your computer with some anti-malware programs such as SpyHunter and Malwarebytes Anti-Malware. The virus signature databases of those are updated more often. If you still see the fade.exe in your process list avoid visiting your email and social network accounts, do not provide your credit card or any other personal information. Wait until you remove the infection completely.
Fade.exe was aimed at gaming community. With the popularity of GTA 5 mods it was bundled together with the game mods files. We advise users to avoid .dll files in mod folders. After infecting victim's computer fade.exe injects itself into system registry and modifies various system files. Also this Trojans tries to connect to the remote server to send the log of users input data. First thing you should do when detected fade.exe is to block your internet. You can block it with firewall or simply by plugging off the cable. After that you should scan your PC with antivirus and anti-malware software. Clean up your computer from detected threats and reboot. After reboot we suggest to scan your computer once again to make sure that there is nothing left.  If you don't see fade.exe in your Task Manager then you are safe and now you can enable your Internet, but remember to avoid downloading anything from suspicious websites.
fade.exe Removal Instruction
Automatic Removal for fade.exe
Symptoms of fade.exe infection on your computer can be: computer crashes, unusual homepage or search engine on your browser, unwanted pop-up ads and advertising banners. We recommend to download our automatic removal tool. This removal tool has been tested for fade.exe threat removal and it is easy to use.
You are running:
Windows
.
This Tool is Compatible With:





For quick and easy removal of fade.exe threat, we recommend to download SpyHunter 4 removal tool. SpyHunter 4 by Enigma Software is an anti-malware utility certified by West Coast Labs Checkmark Certification System. Enigma Software has been awarded by various media sources such as CNN.com, USA Today, PC World and Forbes.com. Our tests have proved that SpyHunter 4 has one of the supreme detection and removal ranks for fade.exe.
Removal fade.exe with the help of technical experts
If you have difficulty to remove fade.exe threat by using an automatic removal tool or you have any questions, you can call our professional technical support and they will gladly help you.
Need help? Call us to get
expert technical support