Removal of Junk Cleaner PUP from your computer (PUP Removal Guide)
Junk Cleaner is a potentially unwanted program (PUP) which is widely advertised on the Internet as a system utility that can resolve numerous problems and improve the performance of users' computers. The program can appear on users' computer out of nowhere. Usually it will scan computer and provide user with a list of problems found in the system, mostly non-existent problems in order to scare user to purchase full version of the program which cost around $50. Junk Cleaner can be downloaded from its official websites, however the developers of this software prefer to use aggressive marketing and spread the program bundling together with other freeware programs. This method is very common for adware and malware developers.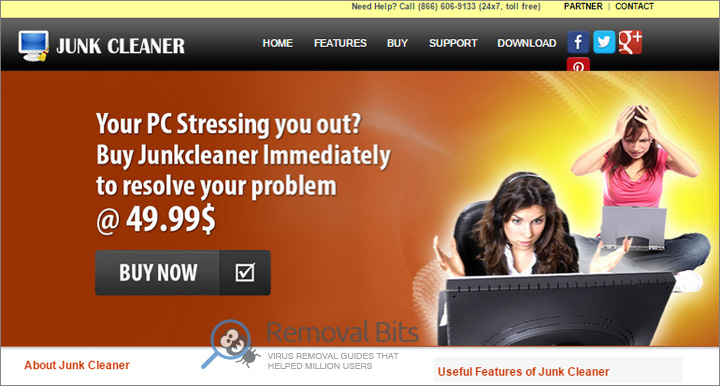 Junk Cleaner might get into your system if you visit some dubious websites, click on spam links or open spam emails attachments. However, the most popular way of spreading is by bundling with freeware applications as was mentioned before. That's why we do not recommend to download any programs from dubious websites or torrents. During the installation of any software you should read carefully the end users license agreement, because there you can find references about the additional software included in the bundle. After that you should select custom installation and make sure there is nothing additional will be installed along with main program.
Some IT experts defend Junk Cleaner software and refute that it is a potentially unwanted program. Of course, it's up to you to decide if you need it or not, but in my honest opinion the program that comes into your computer without your consent, starts up automatically and pops up fake errors and in the end asks you to purchase the full version – is definitely potentially unwanted program or even a malware that should be removed immediately. Why would you want to pay $50 bucks for the software that will fix nonexistent errors that it invented itself?  Also, you are risking to become a victim of credit card fraud during the purchase procedure of the Junk Cleaner.
Junk Cleaner is technically not a virus, but the fact that it tries to scare the user with fake errors into buying a full version makes me think that it is yet another Potentially Unwanted Program. If you have decided that the program Junk Cleaner is unwanted and you want to get rid of it, then you can just follow our comprehensive guide below to remove it from your system or download and install our automatic removal tool that will perform full system scan and complete removal of every malware that hides in your system.
Junk Cleaner Removal Instruction
Automatic Removal for Junk Cleaner
Symptoms of Junk Cleaner infection on your computer can be: computer crashes, unusual homepage or search engine on your browser, unwanted pop-up ads and advertising banners. We recommend to download our automatic removal tool. This removal tool has been tested for Junk Cleaner threat removal and it is easy to use.
You are running:
Windows
.
This Tool is Compatible With:





For quick and easy removal of Junk Cleaner threat, we recommend to download SpyHunter 4 removal tool. SpyHunter 4 by Enigma Software is an anti-malware utility certified by West Coast Labs Checkmark Certification System. Enigma Software has been awarded by various media sources such as CNN.com, USA Today, PC World and Forbes.com. Our tests have proved that SpyHunter 4 has one of the supreme detection and removal ranks for Junk Cleaner.
Removal Junk Cleaner with the help of technical experts
If you have difficulty to remove Junk Cleaner threat by using an automatic removal tool or you have any questions, you can call our professional technical support and they will gladly help you.
Need help? Call us to get
expert technical support