How to unlock your computer from CryptoLocker ransowmare virus?
CryptoLocker is another malicious program from the ransomware family which was created by cyber criminals to infect users' computers and demand payment. It can get into your computer by exploiting security system vulnerabilities during update of various programs such as Adobe Flash Player, Java and others. Also, you may get this infection if you open a spam email attachment, visit dubious websites or click on pop-up ads. So, if you keep your computer with updated programs and clean of adware and malware you are greatly lowering chance of getting infected with CryptoLocker or CryptoWall ransomware.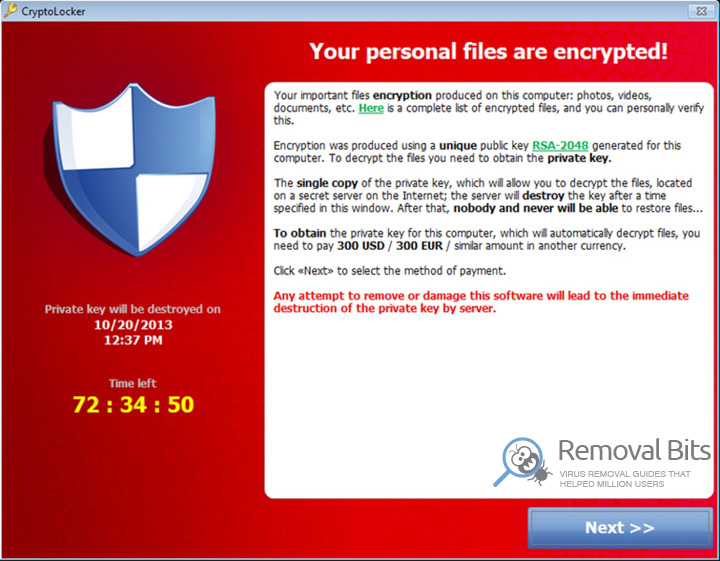 Once installed, CryptoLocker will scan your system and encrypt all of the files stored on hard disk drives. After that, it will demand amount of 300 Euros or USD (note that amount may be different) in order to decrypt your files and unlock your computer. Victim can pay the ransom by using Bitcoin wallet or some dubious e-payment systems like Ukash, cashU and MoneyPak. Howeve,r you should never pay the ransom, most of the times, cyber criminals will just take your money and leave you with nothing.  Also, by sending money to cyber criminals you are directly supporting their illegal business at the same time you are risking to get your credit card stolen. You should get rid of CryptoLocker as soon as possible.
All of the files on the infected computer are getting extension ".excrypted". At least you can be sure that your files were not removed. Also, you might be able to perform system restore to previous date and recover all of your files. Most often CryptoLocker encrypts files with extensions .doc, .xls, .ppt, .ai, .jpg, .srw, .cer. As you can see those are your documents, presentations, images and other important files. You can easily remove CryptoLocker from your computer by following the removal guide written below, but to be honest, it will be hard to decrypt your encrypted files without getting unique key. You should backup your files and try to perform system restore.
To completely remove CryptoLocker from your computer, we recommend to follow our detailed instruction written below. Perform all of the steps in the correct order and you will be able to get rid of CryptoLocker virus. However, as mentioned before, we cannot help you with decryption of your encrypted files. You may try to restore your system to previous date, but only after removing CryptoLocker and other malicious programs from your computer. We recommend to download and install our automatic removal tool to scan your computer for malware infections and remove them with just a few clicks.
CryptoLocker Removal Instruction
Automatic Removal for CryptoLocker
Symptoms of CryptoLocker infection on your computer can be: computer crashes, unusual homepage or search engine on your browser, unwanted pop-up ads and advertising banners. We recommend to download our automatic removal tool. This removal tool has been tested for CryptoLocker threat removal and it is easy to use.
You are running:
Windows
.
This Tool is Compatible With:





For quick and easy removal of CryptoLocker threat, we recommend to download SpyHunter 4 removal tool. SpyHunter 4 by Enigma Software is an anti-malware utility certified by West Coast Labs Checkmark Certification System. Enigma Software has been awarded by various media sources such as CNN.com, USA Today, PC World and Forbes.com. Our tests have proved that SpyHunter 4 has one of the supreme detection and removal ranks for CryptoLocker.
Removal CryptoLocker with the help of technical experts
If you have difficulty to remove CryptoLocker threat by using an automatic removal tool or you have any questions, you can call our professional technical support and they will gladly help you.
Need help? Call us to get
expert technical support