How to uninstall Security Utility Potentially Unwanted Program (PUP) from your computer
Security Utility is one of the recently created programs that may harm your computer. The program was developed by Security Utility 1 Ltd and it promises to enhance user's browser performance, make Internet browsing more secure and protect user from phishing attacks. Sounds magnificent isn't it? Let's find out what exactly does this program and do we really need it?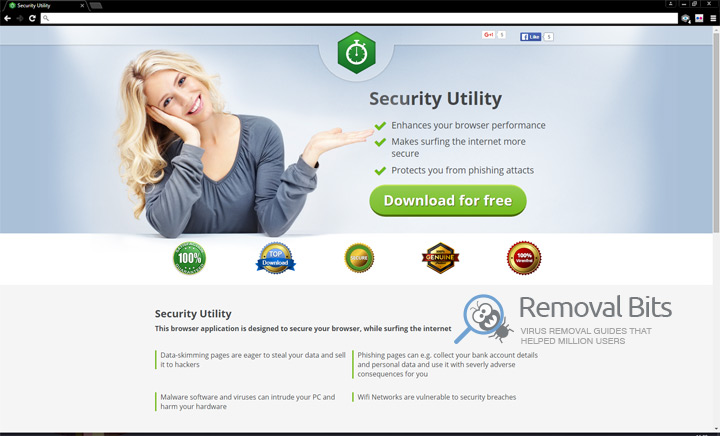 Security Utility can be categorized as potentially unwanted program. First of all, it doesn't provide user with any benefit. Looking closer to EULA of the program we can see that through Security Utility program some third party may provide user with some deals and offers. Also by installing the program you agree that it may change some of your system's preferences and change the appearance of websites. Could we trust some unknown developer to modify our system settings? As for appearance of websites it means that the program will provide users with pop-up ads, invisible iframes and other advertising that will redirect users to sponsored websites. Sounds familiar isn't it? Right, the adware developers are always doing that. From this we can state that Security Utility is closely related to adware. Still reading EULA – Security Utility software may collect may collect some information and cookies. And for the last, Security Utility is not responsible for the content provided by third party, damages caused by using third party websites or clicking third party links. Just by reading the EULA it is obvious that the program is malicious and you should remove it as quickly as possible if you have installed it.
The other interesting fact about Security Utility is that it is can be downloaded from its official website but the lion's share of the installs comes from bundles. It means that Security Utility using exactly the same distribution strategy as malware developers – known as bundling. It is definitely not safe software. Therefore, we recommend to avoid visiting unreliable websites, downloading freeware programs from unofficial websites. Always read the EULA of the software before installation and opt for custom or advanced installation option to be able to see additional programs included in bundle. Also, keep your antivirus and anti-malware programs up to date and do not open spam emails attachments.
To completely remove Security Utility, we have developed a comprehensive and easy to perform manual removal guide that you can find below this article. Follow the steps patiently and read twice before executing and in no time you will be able to get rid of Security Utility PUP form your pc. Also, we recommend to download our automatic removal tool in order to scan your computer for additional threats that could've been installed by Security Utility on your computer, without your consent.
Security Utility Removal Instruction
Automatic Removal for Security Utility
Symptoms of Security Utility infection on your computer can be: computer crashes, unusual homepage or search engine on your browser, unwanted pop-up ads and advertising banners. We recommend to download our automatic removal tool. This removal tool has been tested for Security Utility threat removal and it is easy to use.
You are running:
Windows
.
This Tool is Compatible With:





For quick and easy removal of Security Utility threat, we recommend to download SpyHunter 4 removal tool. SpyHunter 4 by Enigma Software is an anti-malware utility certified by West Coast Labs Checkmark Certification System. Enigma Software has been awarded by various media sources such as CNN.com, USA Today, PC World and Forbes.com. Our tests have proved that SpyHunter 4 has one of the supreme detection and removal ranks for Security Utility.
Removal Security Utility with the help of technical experts
If you have difficulty to remove Security Utility threat by using an automatic removal tool or you have any questions, you can call our professional technical support and they will gladly help you.
Need help? Call us to get
expert technical support