How to uninstall PC Maximum Cleaner from your computer (PUP Removal Guide)
PC Maximum Cleaner is a Potentially Unwanted Program (PUP) developed by ShieldApps and pretends to be a Windows Repair Tool that can check your computer's problems and fix them easily. Really, after the installation the program will be starting automatically on every system load and will scan your computer for errors. However, most of the errors displayed by this program are fake and appearing with one purpose – to scare users into buying the full version of the program. Yes, the free version of PC Maximum Cleaner that can be downloaded from the official website or installed on your computer without your consent will just scan your computer and provide you with the list of fake errors.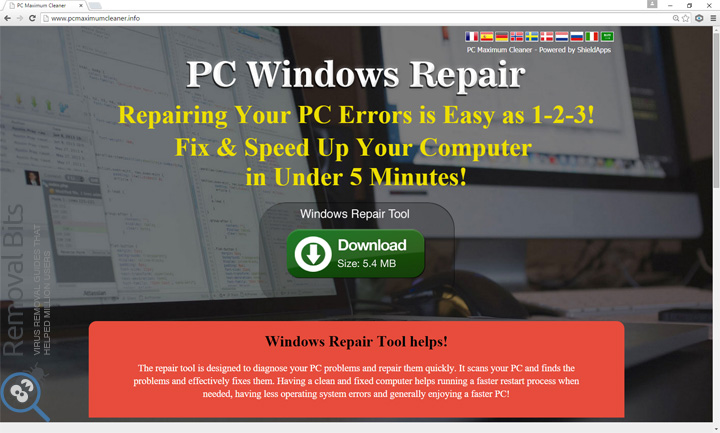 Usually users getting PC Maximum Cleaner program installed on their computer together with freeware applications, without their knowledge. If you are one of those users who skip the license agreement page and select express installation, you are risking getting PC Maximum Cleaner or any other adware or malware installed on your computer, without your authorization. After the installation of PC Maximum Cleaner it will change system settings and will be starting up every time you boot your computer. Also, it might affect most of the web browsers including Google Chrome, Mozilla Firefox and Internet Explorer. Browsers' settings will be modified and you will get a lot of pop-up ads and banners displayed while you browsing the Internet. Some additional programs like toolbars, add-ons and extensions might be also installed into the browser without your permission.
Users will be constantly spammed with fake security alerts from PC Maximum Cleaner and they will not be gone until you buy a full version of the program or completely uninstall it from your computer. All those alerts should be ignored at first place, in any circumstance do not call on the phone number provided in those pop-up ads.  If you call, cyber criminals will try to convince you to install additional programs, which can be keyloggers, rootkits and backdoors that will steal your personal data. Also, they may ask for your credit card number in order to verify that your age is above 18. You should not trust to PC Maximum Cleaner alerts or tech support provided by it, do not click on any buttons or pop-up messages provided by PC Maximum Cleaner.  To completely uninstall PC Maximum Cleaner PUP from your computer, follow our step-by-step guide written below. Perform all of the steps in the correct order and you will get rid of this infection. For your convenience we have designed an automatic removal tool that can scan your computer for threats like PUP, Adware and Malware and completely remove them with just a few clicks.
PC Maximum Cleaner Removal Instruction
Automatic Removal for PC Maximum Cleaner
Symptoms of PC Maximum Cleaner infection on your computer can be: computer crashes, unusual homepage or search engine on your browser, unwanted pop-up ads and advertising banners. We recommend to download our automatic removal tool. This removal tool has been tested for PC Maximum Cleaner threat removal and it is easy to use.
You are running:
Windows
.
This Tool is Compatible With:





For quick and easy removal of PC Maximum Cleaner threat, we recommend to download SpyHunter 4 removal tool. SpyHunter 4 by Enigma Software is an anti-malware utility certified by West Coast Labs Checkmark Certification System. Enigma Software has been awarded by various media sources such as CNN.com, USA Today, PC World and Forbes.com. Our tests have proved that SpyHunter 4 has one of the supreme detection and removal ranks for PC Maximum Cleaner.
Removal PC Maximum Cleaner with the help of technical experts
If you have difficulty to remove PC Maximum Cleaner threat by using an automatic removal tool or you have any questions, you can call our professional technical support and they will gladly help you.
Need help? Call us to get
expert technical support