How to uninstall Driver Restore program from your computer (PUP Removal Guide)
Driver Restore is software, designed to improve computer's performance by updating all of the outdated drivers and it was developed by 383 Media, Inc. The program includes various features such as fast update, constant monitoring, legacy drivers, etc. However, we can assure you that Driver Restore program belongs to the class of potentially unwanted programs and below you will find several reasons why do we think so.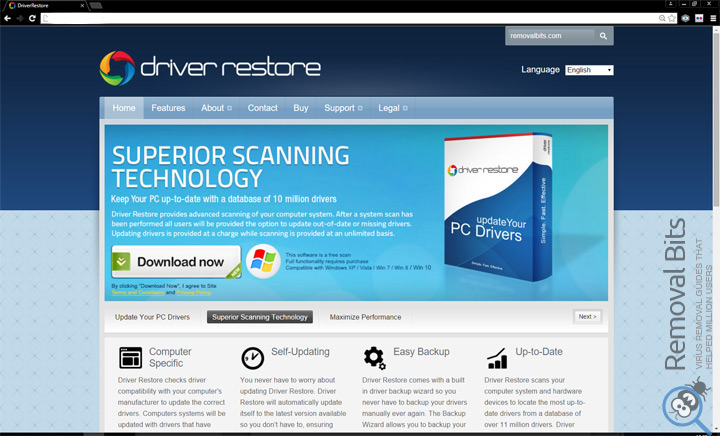 Driver Restore is potentially unwanted program, because it doesn't provide any benefit to user, on contrary, it can be harmful. The program is advertised as a freeware, however a free version of Driver Restore will only provide you with scanner that will scan your system for outdated drivers and provide you with a list of missing drivers. There are no guarantees that the list is fake and half of the drivers presented in the list are not necessary. Anyhow, to update missing drivers, user will need to purchase a full version of the program and that's the main objective of the program – to trick users into purchasing the full version that costs $29.95 for one year updates or $39.95 for two years. It's not the only reason why we consider Driver Restore as potentially unwanted program (PUP). The program is able to change user's system configurations, DNS settings, autostart settings, browser homepage, etc. After those changes, user may experience numerous pop-up ads while browsing the internet which will result into redirects, which are very dangerous and can lead user to malicious websites.
Driver Restore PUP can be downloaded from its official website, but mostly it is spread over the Internet by bundling with freeware programs . This method is widely used by cyber criminals to secretly install malware on user's computer. It consists in wrapping the installer of the third party application together with the installer of the freeware application. During the installation if user doesn't choose advanced or custom installation option he will automatically install the whole bundle. However, most of the freeware developers are mentioning additional programs in the EULA, but most of the users skip that part. It is obvious that if you want to avoid the installation of Driver Restore or any other PUP, you should read EULA and opt for custom installation. Also, malware can be spread through spam email attachments, you shouldn't open those either.
To get rid of Driver Restore PUP you have two options, however we recommend to apply them both at the same time. Firstly, follow our comprehensive removal guide written below and execute all of the steps in the correct order. It will allow you to remove Driver Restore PUP from your pc. Secondly, download our automatic removal tool and scan your computer for additional threats. The program will allow you to find all of the threats on your computer and remove them with just a few clicks.
Driver Restore Removal Instruction
Automatic Removal for Driver Restore
Symptoms of Driver Restore infection on your computer can be: computer crashes, unusual homepage or search engine on your browser, unwanted pop-up ads and advertising banners. We recommend to download our automatic removal tool. This removal tool has been tested for Driver Restore threat removal and it is easy to use.
You are running:
Windows
.
This Tool is Compatible With:





For quick and easy removal of Driver Restore threat, we recommend to download SpyHunter 4 removal tool. SpyHunter 4 by Enigma Software is an anti-malware utility certified by West Coast Labs Checkmark Certification System. Enigma Software has been awarded by various media sources such as CNN.com, USA Today, PC World and Forbes.com. Our tests have proved that SpyHunter 4 has one of the supreme detection and removal ranks for Driver Restore.
Removal Driver Restore with the help of technical experts
If you have difficulty to remove Driver Restore threat by using an automatic removal tool or you have any questions, you can call our professional technical support and they will gladly help you.
Need help? Call us to get
expert technical support