How to uninstall Content Cleaner software from your computer (PUP Removal Tutorial)
Content Cleaner is software developed by Contentcleaner LLC. It is widely advertised as a freeware program that can protect user's privacy and secure personal files. Also, program provides users with features such as startup manager, uninstall tool and secure removal of personal files without further possible restoration. The developers promising that computer's performance will be improved, after using their product. However, there are several security and privacy issues related with Content Cleaner and a lot of users consider this program as Potentially Unwanted Program (PUP).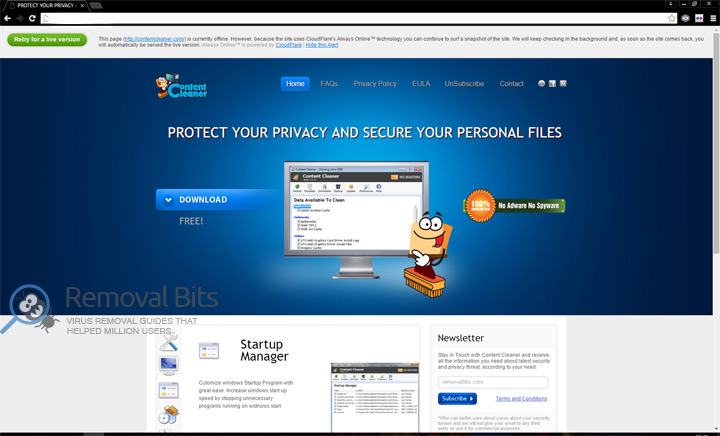 Content Cleaner could be downloaded from its official website, however, Google Safe Browsing found harmful programs on the website and blocked it. Even Google is warning users that Content Cleaner might attempt to trick users into installing programs that can harm user's browsing experience, like changing homepage or showing additional advertisements on websites you visit. However, mostly, users installing Content Cleaner PUP without their knowledge during the installation of some third party freeware program downloaded from unofficial website or torrent. This method is called bundling, when the freeware developers are willing to include additional third party products into the program installer for some fee. It is considered as a grey method of distribution and that's why we recommend to remove Content Cleaner program from your computer.
Content Cleaner after installation will constantly bother user with lots of fake security alerts which can be fixed by purchasing the full version of the program. The objective of those alerts is to trick user into purchasing the full version of the program. In fact, users are risking to expose their personal data during the purchase process and may get involved into identity theft and credit card fraud crimes. We strongly suggest removing Content Cleaner PUP from your pc as soon as possible, because the program is able to download additional programs into users' computers without their knowledge. Some experts are stating that they tested the program and found that it is constantly running on the background. It reflects in slow computer's performance, because a lot of system resources are consumed by this unwanted program. Also the program is able to monitor user's browsing activities and collect personal data including browsing history, search queries, name, address, phone number, etc.
Content Cleaner is definitely potentially unwanted program that should be removed. It poses a big threat to user and can compromise user's security and violate privacy. To completely uninstall Content Cleaner software from your computer, we have developed a manual removal guide that you can find below. Follow the steps in the correct order to eliminate Content Cleaner from your pc. Also, we recommend to download automatic removal tool to scan your computer for additional threats. It will scan the whole system, registry and will provide you with list of threats found on your machine and you will be able to remove them with just a few clicks.
Content Cleaner Removal Instruction
Automatic Removal for Content Cleaner
Symptoms of Content Cleaner infection on your computer can be: computer crashes, unusual homepage or search engine on your browser, unwanted pop-up ads and advertising banners. We recommend to download our automatic removal tool. This removal tool has been tested for Content Cleaner threat removal and it is easy to use.
You are running:
Windows
.
This Tool is Compatible With:





For quick and easy removal of Content Cleaner threat, we recommend to download SpyHunter 4 removal tool. SpyHunter 4 by Enigma Software is an anti-malware utility certified by West Coast Labs Checkmark Certification System. Enigma Software has been awarded by various media sources such as CNN.com, USA Today, PC World and Forbes.com. Our tests have proved that SpyHunter 4 has one of the supreme detection and removal ranks for Content Cleaner.
Removal Content Cleaner with the help of technical experts
If you have difficulty to remove Content Cleaner threat by using an automatic removal tool or you have any questions, you can call our professional technical support and they will gladly help you.
Need help? Call us to get
expert technical support