How to remove Yakes ransomware from your computer
Yakes is a new ransomware that is infecting user's computers worldwide. Winter holidays come to an end, all went to work and do business. Attackers are also intensified, who decided this time to earn extra money on businessmen and office employees. Cyber criminals recently launched email-campaign to spread Yakes ransomware. Fake e-mails in this case are very similar to the real business correspondence, but instead of financial documents contain malicious attachment or link, which will lead to the malicious website with script that will exploit the flash player vulnerability and automatically download Yakes ransomware on your computer.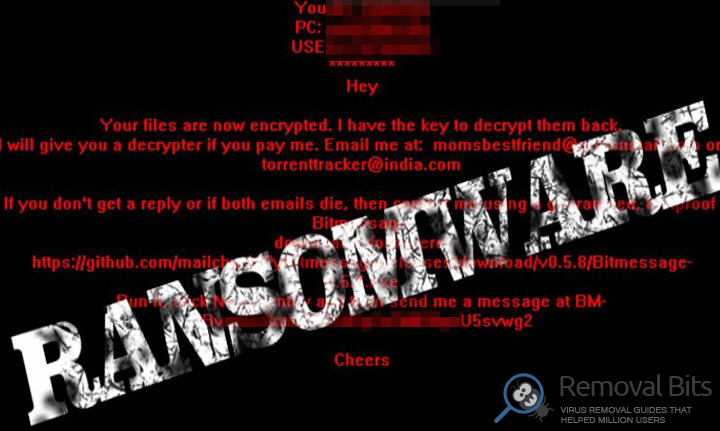 Mostly Yakes ransomware is spread via emails and all of them look quite authentically – the emails are written in a formal style, send on behalf of the existing companies, indicating a valid, at first glance, reasons. Some emails imitate messages about changing the payment plan, created automatically by an alarm system, and supposedly do not require a response. The other users are asked to open a malicious attachment that looks like the company card with new details. In general, there are numerous ideas how to give a letter more respectable and official form. To dispel suspicious of users, in some cases, they used old but still effective trick: attached to the letter a notification of the imaginary antivirus checking.
Distributed in emails Yakes ransomware is a dangerous threat, which can encrypt all of the files on user's computer. Once launched it will scan the computer for files with the following extensions: .doc, .ppt, .pdf, .jpeg, .mpeg, etc and add its own extension .keyholes. Afterwards, files cannot be opened and remain locked until you input the key, which will be provided only after paying a ransom in amount of 4 Bitcoins (currently, equivalent to $1795.56). At this point, there is no reason to pay the ransom, even though, it is not recommended to pay the ransom or contact with the cyber criminals in any case. First of all, there is no guarantee that after the payment you will receive the unlocking key. Secondly, by paying a ransom you encouraging cyber criminals to create more threats. Thirdly, during the transaction process you might expose your personal details, which can be later used by attackers for their illegal purposes.
If you were infected with Yakes ransomware, there are still few possibilities to recover your personal files. However, first of all you need to get rid of the Trojans and malware that might be hiding in your system and might install Yakes straight after recovering. So, at the beginning we recommend to download and install our automatic removal tool and scan your whole system for threats and clean them all. Afterwards you might perform system restore to previous date. Also, we recommend to keep your important data backed up on the external storage or cloud services, so you will be always able to restore it.
Yakes Removal Instruction
Automatic Removal for Yakes
Symptoms of Yakes infection on your computer can be: computer crashes, unusual homepage or search engine on your browser, unwanted pop-up ads and advertising banners. We recommend to download our automatic removal tool. This removal tool has been tested for Yakes threat removal and it is easy to use.
You are running:
Windows
.
This Tool is Compatible With:





For quick and easy removal of Yakes threat, we recommend to download SpyHunter 4 removal tool. SpyHunter 4 by Enigma Software is an anti-malware utility certified by West Coast Labs Checkmark Certification System. Enigma Software has been awarded by various media sources such as CNN.com, USA Today, PC World and Forbes.com. Our tests have proved that SpyHunter 4 has one of the supreme detection and removal ranks for Yakes.