How to remove WebVeil Browser Adware from your computer (PUP Removal Guide)
WebVeil Browser is a free chromium-based web browser developed by AppsCity, Ltd. The developers stating that this web browser is much better than Google Chrome or Mozilla Firefox, because it has built-in adblocker and spyware scanner. Also this web browser can be modified by various themes, extensions and backgrounds. Developers are promising blazing fast browsing experience and highest level of protection. But what is hiding behind all of those promises and features? Let's figure it out together.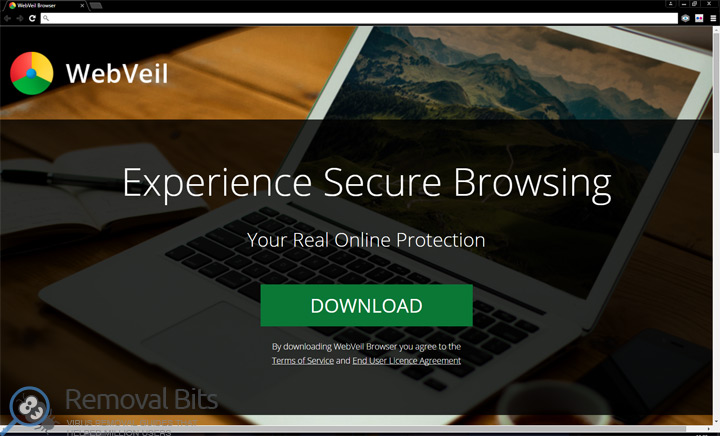 WebVeil Browser has a lot of positive reviews on the Internet, but we know that most of those reviews are fake. AppsCity, Ltd just bought positive reviews to trick users. In reality, a lot of PC experts tested WebVeil Browser and wrote honest reviews, which are mostly negative. WebVeil Browser can be considered as a potentially unwanted program for several reasons. This browser reported to be closely related with adware and we started to investigate that issue. In the EULA of the WebVeil Browser you may find that AppsCity, Ltd. may modify user's default search provider during use of the application. Also, it may install updates without user's authorization. Sounds familiar isn't it? Right, most of the browser hijackers and other malware are doing the same with your web browser. But that's not everything. Some of the IT experts found that WebVeil Browser is constantly transmitting user's personal data to some remote servers. That data includes, user's search queries, geo-location, browser and operating system version, phone number, address and other personal data. WebVeil Browser developers are saying that they need that data for statistics and to improve overall quality of the browser, however there are no guarantees about the security of your data. Same as AppsCity, Ltd. is not responsible for any third party content provided within their web browser.
The most common way of distribution of the WebVeil Browser is through freeware downloads. Even though, the WebVeil Browser has its official website, but most of the users getting it without their consent. This method is called bundling and it is very popular among adware and malware developers. To avoid the infection with adware or potentially unwanted programs like WebVeil Browser it is recommended to follow few simple rules. Firstly, do not click on pop-up ads, banners and quizzes. Secondly, try to avoid visiting dubious websites. Thirdly, do not trust unofficial freeware developers. Always read the EULA before the installation of any software and opt for custom installation to be able to see the list of additional programs included in the bundle.
To completely uninstall WebVeil Browser PUP from your computer you will have to perform all of the steps written below. Follow the guide carefully and perform all of the steps in the correct order. We strongly recommend to download automatic removal tool to scan and clean your computer from threats, sine WebVeil Browser could install malware on your computer without your consent.
WebVeil Browser Removal Instruction
Automatic Removal for WebVeil Browser
Symptoms of WebVeil Browser infection on your computer can be: computer crashes, unusual homepage or search engine on your browser, unwanted pop-up ads and advertising banners. We recommend to download our automatic removal tool. This removal tool has been tested for WebVeil Browser threat removal and it is easy to use.
You are running:
Windows
.
This Tool is Compatible With:





For quick and easy removal of WebVeil Browser threat, we recommend to download SpyHunter 4 removal tool. SpyHunter 4 by Enigma Software is an anti-malware utility certified by West Coast Labs Checkmark Certification System. Enigma Software has been awarded by various media sources such as CNN.com, USA Today, PC World and Forbes.com. Our tests have proved that SpyHunter 4 has one of the supreme detection and removal ranks for WebVeil Browser.
Removal WebVeil Browser with the help of technical experts
If you have difficulty to remove WebVeil Browser threat by using an automatic removal tool or you have any questions, you can call our professional technical support and they will gladly help you.
Need help? Call us to get
expert technical support