How to remove Shield+ Browser from your PC (PUP Removal Instructions)
Shield+ Browser is a Chromium based web browser. It shouldn't be mistaken with Google Chrome browser. It is completely different program that was developed by unknown developers from Shield+. They promise that their web browser is much quicker compared to Google Chrome, Mozilla Firefox and Internet Explorer and much safer. Also the Shield+ Browser integrates a lot of features such as: privacy protector, cloud backup, adblocker and others. Actually you can add all of those tools into the known and reliable browser with the help of official extensions. Anyway, Shield+ Browser is being considered as an adware and potentially unwanted program (PUP) by many IT experts and let's see why.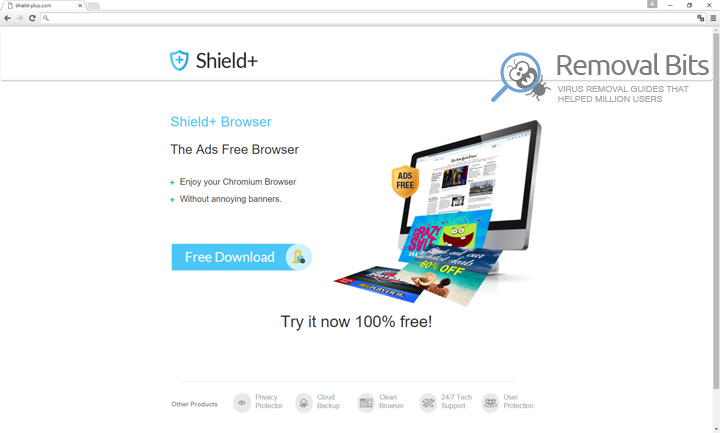 Web browser is the man in the middle between users and the Internet websites. All of your personal information goes through the web browser. Are you willing to expose your private information to the third party? Or would you prefer to trust to the reliable browsers from official developers? While using Shield+ Browser nobody can guarantee the security of your information, because all of your input data, search queries, browsing history goes through the servers of the developers of Shield+ Browser. Some sources saying that Shield+ Browser passes user's information to the third parties for commercial purposes. Also, this browser can communicate with the developers and receive commands to execute scripts or something else. It is another vulnerability of the browser, imagine if the developers would like to promote some additional software and remotely execute the installer on your computer. Also, the remote servers can be hijacked by cyber criminals and they will simply spread some infections. Shield+ Browser is dangerous program, which is also related with adware. It may create some invisible layers and provide user with banners and pop-up ads that they won't be able to close. As was mentioned before, the Shield+ Browser can receive some remote instructions and change default home page and search engine.
Another interesting fact is the distribution of the Shield+ Browser. It uses the same distribution techniques as the malware, in particular, it is spread via freeware applications by bundling. Most of the users getting Shield+ Browser installed on their computers without their consent. It is very bad sign and reflects badly on the reputation of the software. To avoid the stealth installation, we recommend to always read the EULA of the programs that you pretend to install and also check the advanced installation option to be able to see the list of additional programs that might be installed along with the main application.
To completely remove Shield+ Browser you can follow our step-by-step manual removal instructions provided below. You will be taken through the whole removal process and in the end you will get rid of Shield+ Browser adware. If you want to uninstall Shield+ Browser from your computer as quickly as possible then you can download automatic removal tool that will help you with that.
Shield+ Browser Removal Instruction
Automatic Removal for Shield+ Browser
Symptoms of Shield+ Browser infection on your computer can be: computer crashes, unusual homepage or search engine on your browser, unwanted pop-up ads and advertising banners. We recommend to download our automatic removal tool. This removal tool has been tested for Shield+ Browser threat removal and it is easy to use.
You are running:
Windows
.
This Tool is Compatible With:





For quick and easy removal of Shield+ Browser threat, we recommend to download SpyHunter 4 removal tool. SpyHunter 4 by Enigma Software is an anti-malware utility certified by West Coast Labs Checkmark Certification System. Enigma Software has been awarded by various media sources such as CNN.com, USA Today, PC World and Forbes.com. Our tests have proved that SpyHunter 4 has one of the supreme detection and removal ranks for Shield+ Browser.
Removal Shield+ Browser with the help of technical experts
If you have difficulty to remove Shield+ Browser threat by using an automatic removal tool or you have any questions, you can call our professional technical support and they will gladly help you.
Need help? Call us to get
expert technical support