How to remove Shade ransomware virus from your PC (Ransomware Removal Tutorial)
Shade is a recent ransomware program developed by cyber criminals to infect innocent users and demand money. Users may get infected by this ransomware while visiting malicious websites or opening spam email attachments. As soon as Shade gets into the system it will encrypt all of the files stored on hard drives. Your default wallpaper will be replaced by another one with black background and red font text. A Readme.txt text file will be created on your desktop where you will find all of the instructions about how to unlock your computer, usually users have to send some email to the provided email address with some code. Also users are warned that if they try to decrypt files without correct key they will lose their personal data. This ransomware is widely spread over the Internet.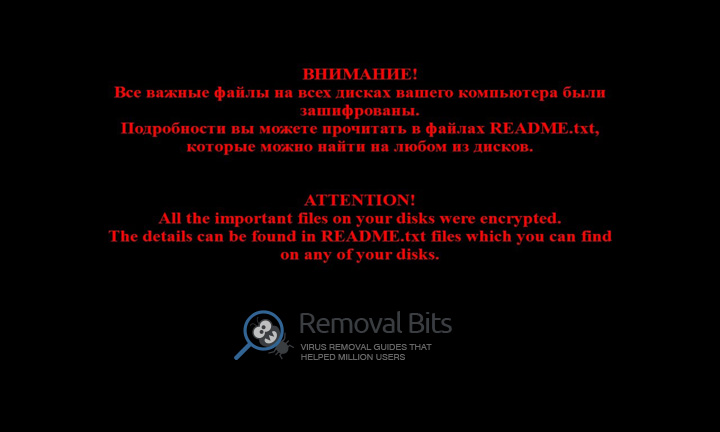 Shade ransomware virus uses the AES 256 bit encryption algorithm, which is impossible to decrypt without the unique key and the key is stored on the Shade's developers' servers. Usually cyber criminals' servers are located in TOR, which makes them anonymous and it's nearly impossible to find them. Shade ransomware is different from other ransomwares like CryptoWall and CryptoLocker, it often installs additional malicious programs on the infected PC. So, on the infected computer might suffer from unwanted redirects to suspicious websites, irritating pop-up ads, etc. Also it might download and install some Trojans like Kovter and Zemot, which are able to collect user's personal information such as logins and passwords, credit cards details and send them to the remote server of cyber criminals.
At the moment there are no tools that can decrypt files encrypted by Shade ransomware, however files are not removed and remain untouched until you find the key or the way how to bring them back. The only working solution is to restore your system to previous state, this will automatically bring back your data, but before that you have to remove Shade virus, otherwise it will encrypt them once again. In any circumstance do not pay ransom to hackers and do not get in touch with them. If you pay ransom to get your files decrypted, there is no guarantee that hackers will provide you with the key, most probably they will just scam you and get your money. Additionally they might hack your PayPal or bank account if you make a payment with them. By paying ransom you are encouraging hackers to continue doing their illegal business.
If you don't want to get infected by ransomware like Share, you should avoid visiting suspicious websites, opening spam emails attachments or clicking on pop-up ads with fake updates or security alerts. Also, make sure that your anti-virus databases are up to date. The first sign of the infection with Shade ransomware is the message that appears as your desktop background stating: "All the important files on your disks were encrypted. The details can be found in README.txt file which you can find on any of your disks". README.txt file contains the next text: "All the important files on your computer were encrypted. To decrypt the files you should send the following code: to email address XXX or XXX Then your will receive all necessary instructions. All the attempts of decrypting by yourself will result in irrevocable loss of your data". If you want to get rid of Shade ransomware, please ignore what is written in README.txt file. Perform the steps below to remove Shade and then try to restore your system to previous state. Also you may try our automatic removal tool that will scan your computer for malware, Trojans and ransomware and get rid of them.
Shade Removal Instruction
Automatic Removal for Shade
Symptoms of Shade infection on your computer can be: computer crashes, unusual homepage or search engine on your browser, unwanted pop-up ads and advertising banners. We recommend to download our automatic removal tool. This removal tool has been tested for Shade threat removal and it is easy to use.
You are running:
Windows
.
This Tool is Compatible With:





For quick and easy removal of Shade threat, we recommend to download SpyHunter 4 removal tool. SpyHunter 4 by Enigma Software is an anti-malware utility certified by West Coast Labs Checkmark Certification System. Enigma Software has been awarded by various media sources such as CNN.com, USA Today, PC World and Forbes.com. Our tests have proved that SpyHunter 4 has one of the supreme detection and removal ranks for Shade.
Removal Shade with the help of technical experts
If you have difficulty to remove Shade threat by using an automatic removal tool or you have any questions, you can call our professional technical support and they will gladly help you.
Need help? Call us to get
expert technical support