How to remove Polizia postale e delle comunicazioni virus from your computer (Ransomware Removal Guide)
Polizia postale e delle comunicazioni, also known as CNAIPIC virus is a ransomware infection that tries to scare users into paying ransom. It uses the name of the government authority in order to trick users, so they think it is real message from police authorities. Usually it locks your computer and encrypts your personal data stored on the hard drives. The only thing that victims can see is the fake message from government authority stating that they need to pay some amount of money. You should never pay the ransom, because of few reasons. First of all you might expose your PayPal account or Credit card information, secondly, you might be scammed and left without money and unlock key, thirdly, by paying a ransom you are supporting cyber criminals and their malicious business.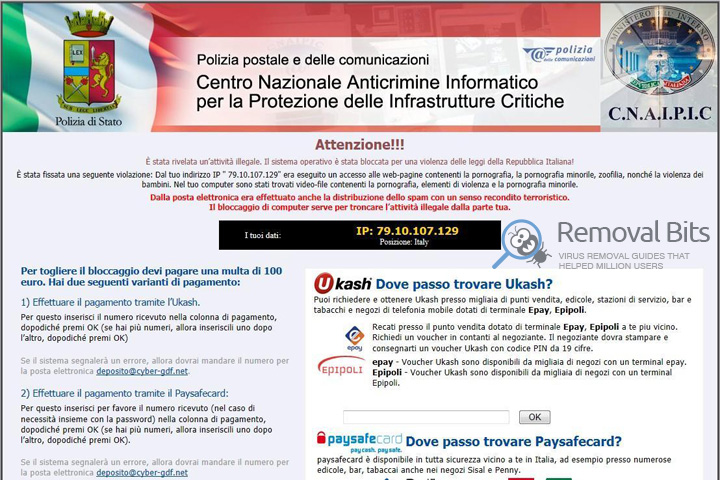 So, the first sign of the infection with Polizia postale e delle comunicazioni ransomware virus is blocked computer and big message, which you can see on the image above. Translated from Italian it means that your computer was blocked by Italian Police Department (CNAIPIC) for illegal online activities which include use of pornographic material, pedophilia content and spread of viruses. And for all of that victim was condemned to pay fine of couple hundred dollars. The fine amount may differ from victim to victim. In case of refusing to pay the fine, victim will sentenced to prison. Users should be aware that that message is fake and they should not pay the ransom.
To avoid the infection with Polizia postale e delle comunicazioni ransomware you should never visit dubious website, open spam email attachments or click on suspicious pop-up ads. Also, never download and install freeware programs from unofficial websites, because most of the times they contain malicious programs bundled. During the installation it is highly recommended to read the user's agreement and opt for custom installation, to be able to unselect optional installs.
Once installed, Polizia postale e delle comunicazioni ransomware or CNAIPIC virus will encrypt all of the files stored on the hard drives with unique key, which is stored on the cyber criminals' server. However if you your computer was just infected by CNAIPIC, there is a chance to remove it and restore your encrypted files. Follow the comprehensive guide below to get rid of Polizia postale e delle comunicazioni ransomware. Perform all of the steps in the correct order and you will be able to completely remove this virus from your computer. Also we recommend to scan your computer with our automatic removal tool, which will scan your system for presence of adware, spyware, malware and ransomware and completely remove it from your computer.
CNAIPIC Removal Instruction
Automatic Removal for CNAIPIC
Symptoms of CNAIPIC infection on your computer can be: computer crashes, unusual homepage or search engine on your browser, unwanted pop-up ads and advertising banners. We recommend to download our automatic removal tool. This removal tool has been tested for CNAIPIC threat removal and it is easy to use.
You are running:
Windows
.
This Tool is Compatible With:





For quick and easy removal of CNAIPIC threat, we recommend to download SpyHunter 4 removal tool. SpyHunter 4 by Enigma Software is an anti-malware utility certified by West Coast Labs Checkmark Certification System. Enigma Software has been awarded by various media sources such as CNN.com, USA Today, PC World and Forbes.com. Our tests have proved that SpyHunter 4 has one of the supreme detection and removal ranks for CNAIPIC.
Removal CNAIPIC with the help of technical experts
If you have difficulty to remove CNAIPIC threat by using an automatic removal tool or you have any questions, you can call our professional technical support and they will gladly help you.
Need help? Call us to get
expert technical support