How to remove MyNewsGuide Toolbar potentially unwanted program from your computer
MyNewsGuide Toolbar is developed by Mindspark Interactive Network, Inc. This developer has been suspected in developing various malware programs that we have already reviewed in previous articles. Once installed, MyNewsGuide Toolbar will change user's browser's configuration and will set Ask.com as default home page and search engine. The toolbar can be downloaded from its official website as well as together with freeware applications. Interesting fact that this toolbar currently only works in Google Chrome, however, the developers might update it to support other popular browsers including Mozilla Firefox and Internet Explorer. The developer of MyNewsGuide Toolbar is promising to provide user with the latest national and international news from CNN, the New York Times, BBC, and AP News. Also user will be able to search for local news, get entertainment updates, and see the local weather. Despite all those beneficial features, most of the PC experts considering MyNewsGuide Toolbar as Potentially Unwanted Program and recommending to remove it as soon as possible.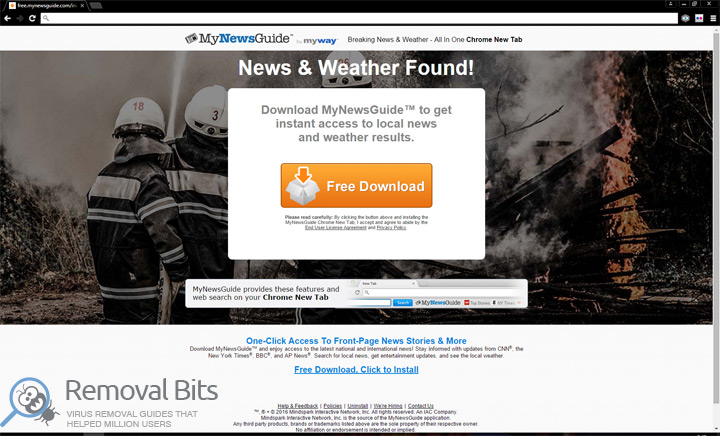 MyNewsGuide Toolbar can be a gateway to other computer infections that can use it to sneak into your computer. Even the developers of this toolbar know about security issues of this program and warning users in the terms of use. Also, MyNewsGuide Toolbar is collecting user's personal data and may share it with third parties for commercial purposes and to improve their services. This malware will be constantly running on the background and consuming system resources, which may cause great drop in system performance. A lot of users reported having numerous intrusive pop-up ads, banners, in-text ads and other kind of advertisements after installing MyNewsGuide Toolbar. So, we can assume that MyNewsGuide Toolbar is closely related with adware and should not be used at all.
MyNewsGuide Toolbar can be downloaded from its official website but mostly it appears on user's computer after the installation of some freeware such as pdf reader, pc optimizer, etc. This method of distribution is very popular among malware developers. Some users got MyNewsGuide Toolbar installed on their computers without authorization after clicking on links or opening spam emails. Therefore, we recommend to avoid visiting dubious websites and opening spam emails. Also, we strongly recommend to read the EULA of the software before installation. To be able to see the list of bundled programs you should select custom or advanced installation. After that, you will be able to decline the installation of optional programs.
To get rid of MyNewsGuide Toolbar we have designed step-by-step removal guide written below. Perform all of the steps carefully and you will completely remove MyNewsGuide Toolbar from your browsers. To guarantee complete removal of MyNewsGuide Toolbar we advise to download and install our automatic removal tool. It will allow you to scan your computer for malware and remove it easily with user-friendly interface.
MyNewsGuide Toolbar Removal Instruction
Automatic Removal for MyNewsGuide Toolbar
Symptoms of MyNewsGuide Toolbar infection on your computer can be: computer crashes, unusual homepage or search engine on your browser, unwanted pop-up ads and advertising banners. We recommend to download our automatic removal tool. This removal tool has been tested for MyNewsGuide Toolbar threat removal and it is easy to use.
You are running:
Windows
.
This Tool is Compatible With:





For quick and easy removal of MyNewsGuide Toolbar threat, we recommend to download SpyHunter 4 removal tool. SpyHunter 4 by Enigma Software is an anti-malware utility certified by West Coast Labs Checkmark Certification System. Enigma Software has been awarded by various media sources such as CNN.com, USA Today, PC World and Forbes.com. Our tests have proved that SpyHunter 4 has one of the supreme detection and removal ranks for MyNewsGuide Toolbar.
Removal MyNewsGuide Toolbar with the help of technical experts
If you have difficulty to remove MyNewsGuide Toolbar threat by using an automatic removal tool or you have any questions, you can call our professional technical support and they will gladly help you.
Need help? Call us to get
expert technical support