How to remove Hydracrypt ransomware from your computer
Hydracrypt is a new ransomware developed by cyber criminals to encrypt all of the important files on user's computer with the extension .doc, .jpeg, .mp3, .mpeg and others. In other words, the ransomware selects user's photos, documents, music and video and encrypts it with hydracrypt extension. User will see the message on the screen saying that all of his files were encrypted and to unlock them he needs to pay ransom.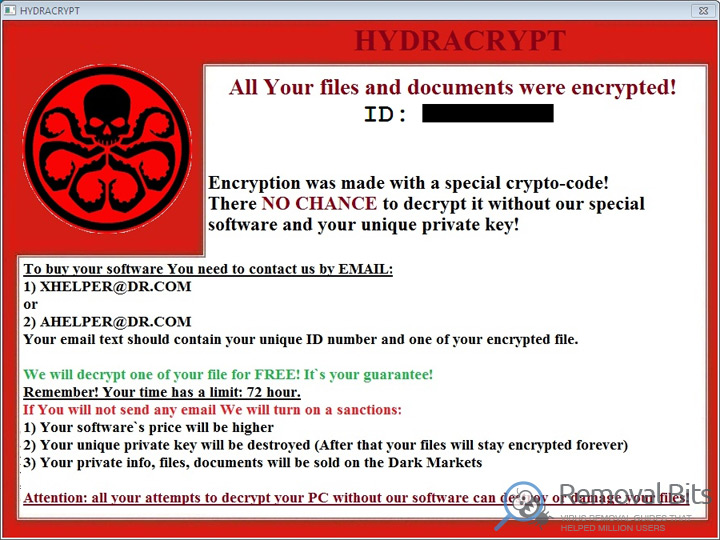 The encryption key is unique and stored on the computer of attackers and the message says that if user doesn't agree to pay a ransom within 72 hours, the key will be deleted and all of the personal files will remain encrypted forever. However, in any case do not pay the ransom! The amount of ransom is not defined, victims are provided with instructions how to contact attackers by email and afterwards they will receive the amount and the bitcoin wallet where they should send the ransom. Same precaution, do not enter in contact with cyber criminals, they can trick you and get your personal information that will be used against you.
Hydracrypt ransomware is using the same method as Chimera ransomware, apart of similar encryption algorithm, Hydracrypt also threatens victims to expose their personal files on the Internet if they do not pay the ransom. We can assure you that it won't happen, since all of the files are stored only on your computer, and during the infection the ransomware doesn't download anything from your computer. However, if you decide to pay the ransom to the cyber criminals, you are encouraging them to create more ransomware and infect more victims. Also, you are risking to become a victim of credit card fraud and get involved in other malicious activities.
Usually Hydracrypt can get into your computer after visiting malicious websites. This may also happen if your computer is infected with browser hijacker or adware that constantly redirects you to various sponsored websites. Also, it can be distributed via spam email's attachments. And for the last, user can get infected after installing some freeware program bundled with ransomware. Therefore, we recommend to keep your computer clean hijackers, adware, spyware and other malware and avoid downloading and installing freeware programs from unofficial websites.
There is no key generator to unlock files from Hydracrypt. Currently the only way of restoring your personal files if by restoring your computer to previous point or restoring from a backup. However, before doing that you need to make sure that your computer doesn't have any hijackers and adware installed. We suggest you to install our automatic tool and scan your computer for threats. It will allow you to see the list of threats found and remove them with just a few clicks. After that you can proceed to restoration.
Hydracrypt Removal Instruction
Automatic Removal for Hydracrypt
Symptoms of Hydracrypt infection on your computer can be: computer crashes, unusual homepage or search engine on your browser, unwanted pop-up ads and advertising banners. We recommend to download our automatic removal tool. This removal tool has been tested for Hydracrypt threat removal and it is easy to use.
You are running:
Windows
.
This Tool is Compatible With:





For quick and easy removal of Hydracrypt threat, we recommend to download SpyHunter 4 removal tool. SpyHunter 4 by Enigma Software is an anti-malware utility certified by West Coast Labs Checkmark Certification System. Enigma Software has been awarded by various media sources such as CNN.com, USA Today, PC World and Forbes.com. Our tests have proved that SpyHunter 4 has one of the supreme detection and removal ranks for Hydracrypt.
Removal Hydracrypt with the help of technical experts
If you have difficulty to remove Hydracrypt threat by using an automatic removal tool or you have any questions, you can call our professional technical support and they will gladly help you.
Need help? Call us to get
expert technical support