How to remove CTB Locker ransomware from your PC
You have probably heard of recent invention of cybercriminals – ransomware. This type of malware is not trying to hide on your computer and secretly steal something. Instead, it encrypts the owner's documents using strong cryptography and demands money for decryption. The most famous example of such ransomware – CryptoWall, CryptoLocker and Chimera. Unfortunately, this gray earning scheme has proved to be very profitable, so cyber criminals developed more complex types of this malware, known as ransomware. One of the most recent ransomware is called CTB Locker, which uses anonymous network TOR and Bitcoins to better protect criminals, their stolen money and encryption keys from the law enforcement agencies.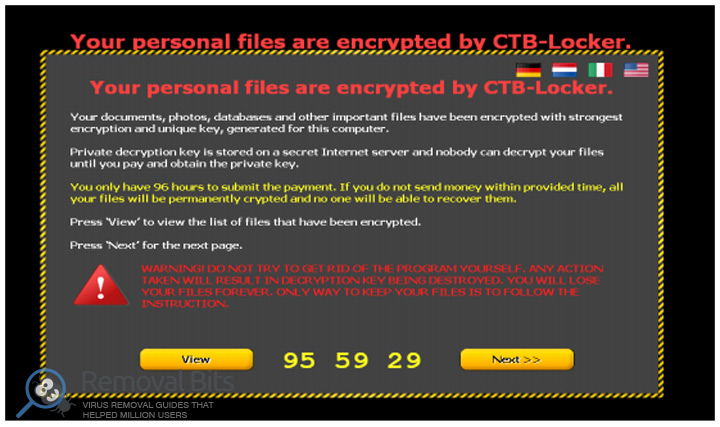 CTB Locker ransomware has a very complicated code and the program itself operates very silently until it encrypts all of user's personal documents, pictures, movies and music. After that it displays a message on victim's computer stating that victim has 72 hours to pay the ransom which varies from 0,15 to 0,5 Bitcoin (around $200 USD) to get the key. The key is stored on the server in the anonymous TOR network, which makes it complicated to trace. If victim declines to pay a ransom, cyber criminals are threating to delete the encryption key, which is equally to complete loss of encrypted data. Also, cyber crooks provide an instruction how to exchange bitcoins and how to make a payment. However, you should know that there is no guarantee that you will ever get a key, but if you pay the ransom, first of all you will lose your money, secondly you will encourage cyber criminals to develop more malware of this kind. So, just hold on and don't panic, you still have chance to recover your data.
Usually CTB Locker uses the notorious distribution scheme. First of all, the cyber criminals exploiting vulnerabilities on various websites and placing their Trojan there. Once the infected website is visited by user the Trojan will automatically get into the computer and will initiate the downloading of CTB Locker ransomware. Also, this ransomware can be spread together with freeware programs by bundling. Mostly those freeware programs can be downloaded from unofficial websites or via torrents. Therefore, we recommend to avoid downloading freeware programs from dubious websites. Also, if your computer is infected with some browser hijacker or adware, you may be redirected to some suspicious websites that will provide you with fake security alerts or update notifications. After downloading an update, you might download the  ransomware.
To completely uninstall CTB Locker we recommend to follow our instructions below. It might be impossible decrypt your personal files without the unique encryption key, however there are few ways how can you restore your data, but first of all you will need to clean your computer from CTB Locker ransomware and other junk. We recommend to download our automatic removal tool and scan your computer for threats. The software will help you to clean your computer from malware. After that simply restore your files from a backup or you can try to perform system restore to previous date.
CTB Locker Removal Instruction
Automatic Removal for CTB Locker
Symptoms of CTB Locker infection on your computer can be: computer crashes, unusual homepage or search engine on your browser, unwanted pop-up ads and advertising banners. We recommend to download our automatic removal tool. This removal tool has been tested for CTB Locker threat removal and it is easy to use.
You are running:
Windows
.
This Tool is Compatible With:





For quick and easy removal of CTB Locker threat, we recommend to download SpyHunter 4 removal tool. SpyHunter 4 by Enigma Software is an anti-malware utility certified by West Coast Labs Checkmark Certification System. Enigma Software has been awarded by various media sources such as CNN.com, USA Today, PC World and Forbes.com. Our tests have proved that SpyHunter 4 has one of the supreme detection and removal ranks for CTB Locker.
Removal CTB Locker with the help of technical experts
If you have difficulty to remove CTB Locker threat by using an automatic removal tool or you have any questions, you can call our professional technical support and they will gladly help you.
Need help? Call us to get
expert technical support