How to remove Chromatic web browser from your computer (PUP Removal Guide)
Chromatic is a chromium based web browser developed by H.M.L. Software Ltd. It can be downloaded from its official website and also from other sources. Mostly this browser appears on user's computer without user's consent, however we will come back to this later in this article. The developers of Chromatic browser are stating that it is the fastest browser from currently available browsers and also it has some unique features such as Internet Protection, Integrated shopping browser extension, which will help user to save time and money while shopping online, by providing deals, offers, discount coupons and comparison tools and Integrated watching extension, which allows user to watch favorite movies bypassing any location restrictions. Sounds quite useful right? In fact, all of that is myth and the reality is that Chromatic web browser is a dangerous and potentially unwanted program that should be uninstalled from your computer as soon as possible. Below you will find the reasons why we think so.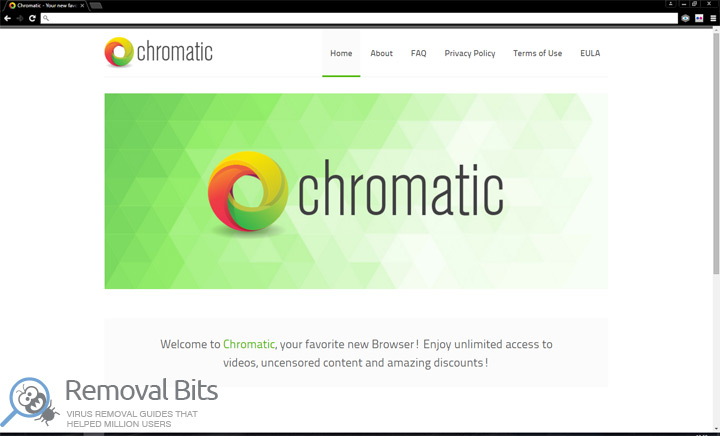 Chromatic web browser is considered malicious by various malware experts. That prompted us to investigate this case. First of all, we read the EULA of the Chromatic browser and found an interesting statement – "By using the Software, you hereby give your consent to us, and grant us with the right to collect, store and use information provided by you or related to you or to the use of the Software by you, including, without limitation, any personally identifiable information". It means that if you installed Chromatic browser you are allowing it to collect and use any of your personal information without limitation. From this we can say that Chromatic browser is showing similar activity as notorious browser hijackers and adware programs. Also, the distribution method of Chromatic web browser is also shady. Of course it can be downloaded from its official website, but most of people installing it without their agreement, together with freeware programs. This method is known as bundling and it is also used by malware developers. If these reasons are not enough for you to prove that it is an unwanted program how about the fact that Chromatic browser is able to modify system and network configurations without user's authorization? Basically, it can setup redirections to sponsored websites and user will be redirected whenever he goes to browse the Internet.
To remove Chromatic web browser PUP from your computer we recommend to follow the removal guide written below. Follow the steps in the correct order to completely uninstall Chromatic web browser from your system. To be completely safe, we recommend to download and install our automatic removal tool that will scan your computer for threats and eliminate them with just few clicks. Chromatic web browser should be removed completely together with all of its components and helper programs.
Chromatic Web Browser Removal Instruction
Automatic Removal for Chromatic Web Browser
Symptoms of Chromatic Web Browser infection on your computer can be: computer crashes, unusual homepage or search engine on your browser, unwanted pop-up ads and advertising banners. We recommend to download our automatic removal tool. This removal tool has been tested for Chromatic Web Browser threat removal and it is easy to use.
You are running:
Windows
.
This Tool is Compatible With:





For quick and easy removal of Chromatic Web Browser threat, we recommend to download SpyHunter 4 removal tool. SpyHunter 4 by Enigma Software is an anti-malware utility certified by West Coast Labs Checkmark Certification System. Enigma Software has been awarded by various media sources such as CNN.com, USA Today, PC World and Forbes.com. Our tests have proved that SpyHunter 4 has one of the supreme detection and removal ranks for Chromatic Web Browser.
Removal Chromatic Web Browser with the help of technical experts
If you have difficulty to remove Chromatic Web Browser threat by using an automatic removal tool or you have any questions, you can call our professional technical support and they will gladly help you.
Need help? Call us to get
expert technical support