How to remove Aurora Browser from your computer?
Aurora Browser was developed by Zhen Zhang and Rafael Costa in order to fulfill the needs of users who like to shop online. In addition to lightweight and fast response compared to competitors, the main feature that buys users is an embedded price comparison tool within the browser. With this tool, user, when searching for a product on the web can automatically check the price of the same item in the competitors' stores. The developers stating that by providing this service, they want to be recognized as a company that helps people to economize and provides a lightweight, fast and secure browser, which follows the highest standards of innovation, security and privacy. Very good statement, however users should know that Aurora Browser is considered an adware and potentially unwanted programs due several reasons.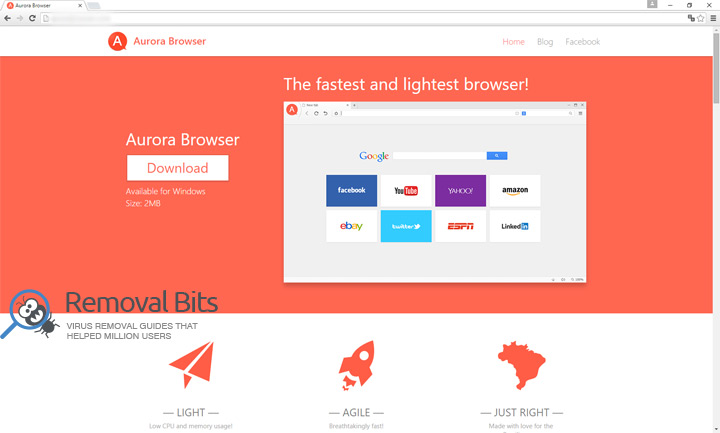 Ironically but Aurora Browser includes an integrated adblocker, however it will not block advertisements provided by the program itself. Aurora Browser is a chromium based web browser, however it can easily modify web pages that user visits by injecting some scripts and dramatically changing the appearance. Also, it may add some invisible layers, frames and banners that will try to redirect user to sponsored websites. I wouldn't trust typing my password in this unreliable web browser, because it can easily record everything that user types and send it to the third parties. Basically, all of your personal information is under risk while you use Aurora Browser. We strongly recommend removing Aurora Browser from your computer.
Usually users installing Aurora Browser themselves because they are seeking for fast and lightweight browser that doesn't consume a lot of memory and disk space. And Aurora Browser promises to bring a lot of cool features such as stress-free navigation (autoblock of advertisements), price comparison tool, roll the tape feature that allows to stick the video to the front, so users can keep watching it while browsing the Internet, auto-translator and other. That's a big amount of useful things, but, stop for a while. You can have all of those features by using Google Chrome or Mozilla Firefox with extensions and you will be sure that you are using official web browser and your confidential information is secured.
Aggressive distribution methods of Aurora Browser adware just make it more suspicious and unreliable. This potentially unwanted program mostly spreads through freeware downloads and being promoted by various adware and malware programs. It means that Aurora Browser is closely related with malware threat and can even be one of them. One-day Aurora Browser might start redirecting users to sponsored websites and you won't be able to remove it. We recommend to get rid of Aurora Browser, before it's too late. Simply follow our comprehensive removal guide written below and remove Aurora Browser from your computer. It is also recommended to download automatic removal tool and scan your computer for additional threats that Aurora Browser could install without your authorization.
Aurora Browser Removal Instruction
Automatic Removal for Aurora Browser
Symptoms of Aurora Browser infection on your computer can be: computer crashes, unusual homepage or search engine on your browser, unwanted pop-up ads and advertising banners. We recommend to download our automatic removal tool. This removal tool has been tested for Aurora Browser threat removal and it is easy to use.
You are running:
Windows
.
This Tool is Compatible With:





For quick and easy removal of Aurora Browser threat, we recommend to download SpyHunter 4 removal tool. SpyHunter 4 by Enigma Software is an anti-malware utility certified by West Coast Labs Checkmark Certification System. Enigma Software has been awarded by various media sources such as CNN.com, USA Today, PC World and Forbes.com. Our tests have proved that SpyHunter 4 has one of the supreme detection and removal ranks for Aurora Browser.
Removal Aurora Browser with the help of technical experts
If you have difficulty to remove Aurora Browser threat by using an automatic removal tool or you have any questions, you can call our professional technical support and they will gladly help you.
Need help? Call us to get
expert technical support