How to get rid of MyPC HealthCheck Potentially Unwanted Program from your computer
MyPC HealthCheck is a potentially unwanted program (PUP) developed by Dual Tap Software Inc. The program offers a free system diagnostic scan and repair of any system and registry errors that might slow down user's computer. Also, the program includes various kinds of pc boosters that supposedly should improve the speed of your computer. Anyway, despite the promises of the developers, the program will require a registration and further the payment, to be able to use all of the features mentioned above. And the free scan will find lots of errors, even on the brand new computer, which means that the objective of the MyPC HealthCheck is to scare users into purchasing the potentially unwanted program.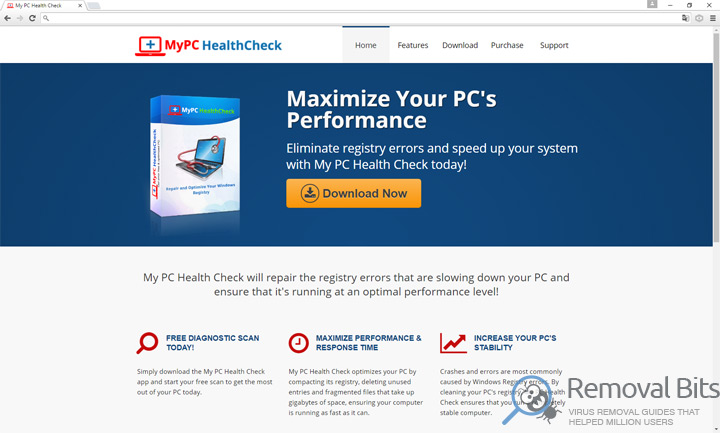 MyPC HealthCheck has also lots of problem with personal information security of the registered users. Basically, once registering you will need to provide your email address, name, home address, zip code and even a phone number. That data can be easily used against users or sold to third parties. Afterwards users will receive spam emails and calls from dubious websites and agencies. Also, some of the personal data can be used on the Internet to advertise suspicious products on users' behalf, without their permission. We were not able to completely study the behavior of the MyPC HealthCheck adware, however we can clearly state that the program goes where it is not supposed to go, it changes system configurations, registry, hosts file and even messes up with the web browser.
MyPC HealthCheck can be downloaded from its official website, but the lion's share of the installs comes from bundling. Bundling is the method used by the most of adware and malware developers and it consists in tricking the users and installing the third party software along with the freeware that user downloads from unofficial websites or via torrents. So, if users don't pay attention during the installation they might install the whole package (bundle) of programs included within the installer. So, if you want to protect yourself from the installation of potentially unwanted programs, adware and malware simply follow the following rules. Read carefully the EULA of the program that you pretend to install, download programs only from the official websites and always select advanced installation option to be able to select what exactly you want to be installed.
If you want to get rid of MyPC HealthCheck potentially unwanted program, you have two options. First is to follow the convenient removal guide that explains how to remove MyPC HealthCheck from the computer in steps. You can find it below this article. The second option, which I would recommend you is to download the automatic removal tool that will not only remove MyPC HealthCheck, but also will scan your computer for additional threats and help you to remove them.
MyPC HealthCheck Removal Instruction
Automatic Removal for MyPC HealthCheck
Symptoms of MyPC HealthCheck infection on your computer can be: computer crashes, unusual homepage or search engine on your browser, unwanted pop-up ads and advertising banners. We recommend to download our automatic removal tool. This removal tool has been tested for MyPC HealthCheck threat removal and it is easy to use.
You are running:
Windows
.
This Tool is Compatible With:





For quick and easy removal of MyPC HealthCheck threat, we recommend to download SpyHunter 4 removal tool. SpyHunter 4 by Enigma Software is an anti-malware utility certified by West Coast Labs Checkmark Certification System. Enigma Software has been awarded by various media sources such as CNN.com, USA Today, PC World and Forbes.com. Our tests have proved that SpyHunter 4 has one of the supreme detection and removal ranks for MyPC HealthCheck.
Removal MyPC HealthCheck with the help of technical experts
If you have difficulty to remove MyPC HealthCheck threat by using an automatic removal tool or you have any questions, you can call our professional technical support and they will gladly help you.
Need help? Call us to get
expert technical support