How to uninstall MPC Cleaner program from your PC (PUP Removal Guide)
MPC Cleaner (More Powerful Cleaner) is software developed by MPC and the developers are promising that the software will enhance user's computer performance by applying best possible system settings, remove unnecessary tasks, protect browsers from malware, block ads, make intelligent dynamic adjustments to the priority class of background processes and other things. However, a lot of IT experts considering MPC Cleaner as potentially unwanted program and below you will find the main reasons why.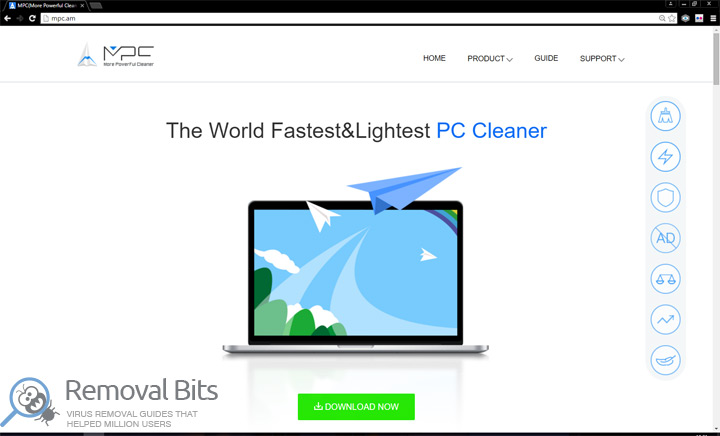 MPC Cleaner can be downloaded from its official website, but most of the installs comes from bundles, when users installing this program along with freeware application, without even realizing it. That's the first thing, because the legitimate software doesn't need any secretly installing methods. The other thing is that MPC Cleaner after installation can change system and browser settings, set user's default homepage to search.mpc.am without user's permission. The developers are monetizing their product by collecting web traffic and redirecting users to sponsored websites. Those redirects are very dangerous and can lead into serious infections or other troubles related with frauds, scams and ransomware. Also, MPC Cleaner can collect user's personal data, such as operating system version, browser version, IP, language preferences, Name, address and other for commercial purposes. Further this information can be sold to third parties. As you can see there are several reasons why it is not recommended to use MPC Cleaner software, although, we recommend to remove it from your computer.
As was mentioned before, MPC Cleaner can be downloaded from its official websites, but the developers are spreading this program through various techniques such as via bundles, spam email attachments, tricking users with fake security alerts pop-up ads, etc. These methods are quite popular between adware, spyware and malware developers, so we can presume that MPC Cleaner is closely related to malicious programs. To avoid the installation of MPC Cleaner we suggest to read carefully EULA before installing any software on your computer. Also, it is recommended to select Advanced installation to be able to see the list of bundled programs and unselect them.
MPC Cleaner might be useful program and could really improve your computer's performance, however there are a lot of features that will work against user. So, if you don't want to lose your personal information or if you want to get rid of annoying pop-up ads and constant redirections we recommend to follow our comprehensive removal guide written below to uninstall MPC Cleaner software from your computer.  After removing MPC Cleaner we suggest to download our automatic removal tool and scan your computer for threats, because some malware programs could be downloaded and installed by MPC Cleaner without your knowledge.
MPC Cleaner Removal Instruction
Automatic Removal for MPC Cleaner
Symptoms of MPC Cleaner infection on your computer can be: computer crashes, unusual homepage or search engine on your browser, unwanted pop-up ads and advertising banners. We recommend to download our automatic removal tool. This removal tool has been tested for MPC Cleaner threat removal and it is easy to use.
You are running:
Windows
.
This Tool is Compatible With:





For quick and easy removal of MPC Cleaner threat, we recommend to download SpyHunter 4 removal tool. SpyHunter 4 by Enigma Software is an anti-malware utility certified by West Coast Labs Checkmark Certification System. Enigma Software has been awarded by various media sources such as CNN.com, USA Today, PC World and Forbes.com. Our tests have proved that SpyHunter 4 has one of the supreme detection and removal ranks for MPC Cleaner.
Removal MPC Cleaner with the help of technical experts
If you have difficulty to remove MPC Cleaner threat by using an automatic removal tool or you have any questions, you can call our professional technical support and they will gladly help you.
Need help? Call us to get
expert technical support