How to remove XRTN Ransomware from your computer
XRTN is a new kind of ransomware, also known as .XRTN virus infection that infects your computer and encrypts all of the data with RSA-1024 encryption algorithm, which is nearly impossible to decrypt. The developers of this ransomware just used the open source Gnu Privacy Guard software for the encryption.  XRTN ransomware is closely related with Chimera, CryptoLocker and CryptoWall ransomware programs. Same as its older brothers, XRTN is developed in order to demand money from users. Once infected with XRTN you will see a warning message that your personal data is encrypted and you won't be able to retrieve it unless you pay ransom. The email originally provided in the ransom note was xrtnhelp@yandex.ru, however now we have numerous modifications of this ransomware with different email addresses.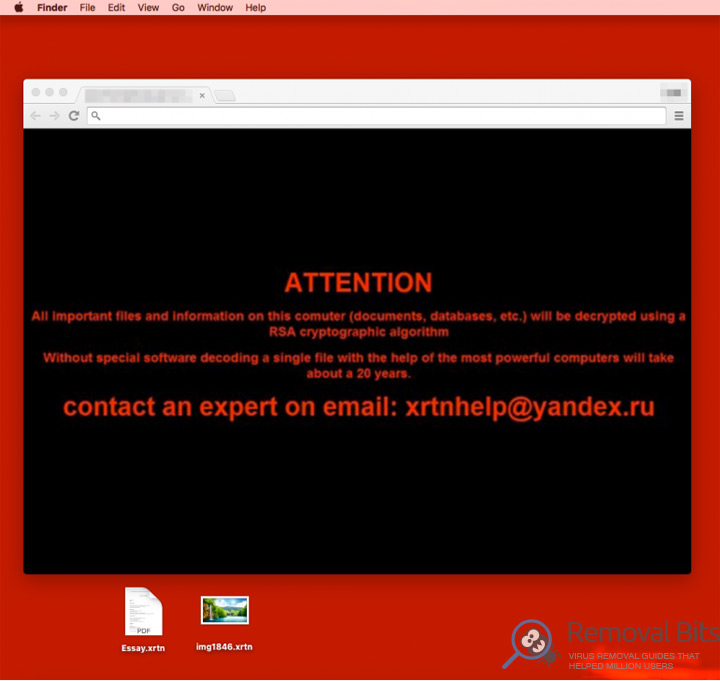 XRTN ransomware is a collection of various tools and batch files that works together in order to encrypt user's personal data. Usually, it gets into the system via JavaScript that can be hosted on some malicious websites and once executed, the script will download XRTN files to user's computer and execute them without user's authorization. After that, all of user's personal files will be encrypted and to get them back user will need to introduce a unique key that was generated by the XRTN ransomware during the encryption. The problem is that the key is stored on the remote server of cyber criminals and you will not be able to discover it no matter how hard you try. Once again, that proves that it is very dangerous to visit malicious websites and also it is very dangerous to have browser hijackers and adware installed on your computer, since they will redirect you to dubious websites. Some users reported that they were infected after opening a word file attached in the email. We want to remind you that you should never open attachments in spam emails or from unknown senders.
Once executed, XRTN ransomware will scan victim's system for files with extensions .xls, *.doc, *.xlsx, *.docx, *.pdf, *.rtf, *.cdr, *.psd, *.dwg, *.cd, *.mdb, *.1cd, *.dbf, *.sqlite, *.jpg, *.zip and encrypt them with RSA-1024 key. All of the files will have .xrtn extension after the encryption. XRTN ransomware may also remove user's backup copies by executing VBS scripts, so user will not be able to restore files. However, sometimes it fails and it's the only chance to recover your personal files.  In any circumstance you should not pay the ransom or enter in contact with cyber criminals. There is no guarantee that you will get the key. Most likely after paying ransom you will be just scammed and cyber criminals may also steal your credit cards information. Paying ransom is supporting and encouraging ransomware developers to continue doing their shady business.
Unfortunately, at the moment there is no way to get the unique master key used for the encryption. The only way to recover your personal files is from backup. However, it is recommended to follow the steps below to clean your computer from adware and hijackers before starting to recover from backup. Also, it is advised to scan your computer with automatic removal tool to get rid of malware installed in the system.
XRTN Removal Instruction
Automatic Removal for XRTN
Symptoms of XRTN infection on your computer can be: computer crashes, unusual homepage or search engine on your browser, unwanted pop-up ads and advertising banners. We recommend to download our automatic removal tool. This removal tool has been tested for XRTN threat removal and it is easy to use.
You are running:
Windows
.
This Tool is Compatible With:





For quick and easy removal of XRTN threat, we recommend to download SpyHunter 4 removal tool. SpyHunter 4 by Enigma Software is an anti-malware utility certified by West Coast Labs Checkmark Certification System. Enigma Software has been awarded by various media sources such as CNN.com, USA Today, PC World and Forbes.com. Our tests have proved that SpyHunter 4 has one of the supreme detection and removal ranks for XRTN.
Removal XRTN with the help of technical experts
If you have difficulty to remove XRTN threat by using an automatic removal tool or you have any questions, you can call our professional technical support and they will gladly help you.
Need help? Call us to get
expert technical support