How to remove Regclean Pro form your PC (PUP Removal Guide)
Regclean Pro is a potentially unwanted program which is widely advertised over the Internet as a system optimizing tool that can scan you registry for unused entries and clean it to improve the performance of your computer. The developers are promising that their product will "magically" solve the issues related with blue screen of death and improve the system boot time. With full version of the program you will be able to defrag your hard drive and make a backup copy of your system. However, the program might be installed into your computer without your authorization and it's not a good sign for legitimate software. That's why we recommend to remove Regclean Pro from your computer.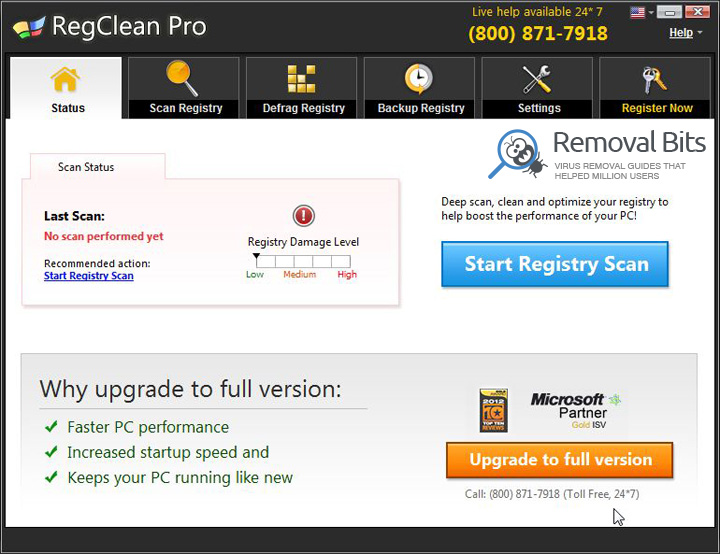 According to the information about Regclean Pro on the Internet, it has earned a gold certificate from Microsoft. However, it is not hundred percent guarantees that the program is useful. There are various reviews about this program on the Internet and half of them are positive and another half are negative. Some people are saying that the program has really helped them to improve the performance of the computer and get rid of various errors, others are saying that they are not quite happy that this program was installed on their computers without asking for permission.
Once installed, Regclean Pro changes system entries and starts up automatically on the system boot. When you boot your computer Regclean Pro automatically scans your system and shows you the list of errors and problems that you have on your computer. However, you will not be able to fix those errors until you buy the full version of the program. It's wonderful how Regclean Pro can even find errors on the brand new computers, which makes me think that all of those errors are exaggerated and displayed in order to scare user into buying the full version of the software.
Most of the times, users getting Regclean Pro on their PC after installing some freeware or shareware programs downloaded from unofficial websites. This method is known as bundling. This way the freeware developers are making revenues by bundling the third party applications to their installer. To avoid this situation we strongly recommend reading EULA and selecting custom installation instead of express, so you will be able to unselect any third party application from being installed together with the main program.
Regclean Pro is technically not a virus, it is a potentially unwanted program (PUP) that you can easily remove by following our step by step guides written below. There are plenty of alternative freeware programs that can do registry scan, defragmentation and other things that Regclean Pro offers for money. To remove Regclean Pro we advise you to download and install our automatic removal tool that was specifically designed to uninstall Potentially Unwanted Programs from your computer.
Regclean Pro Removal Instruction
Automatic Removal for Regclean Pro
Symptoms of Regclean Pro infection on your computer can be: computer crashes, unusual homepage or search engine on your browser, unwanted pop-up ads and advertising banners. We recommend to download our automatic removal tool. This removal tool has been tested for Regclean Pro threat removal and it is easy to use.
You are running:
Windows
.
This Tool is Compatible With:





For quick and easy removal of Regclean Pro threat, we recommend to download SpyHunter 4 removal tool. SpyHunter 4 by Enigma Software is an anti-malware utility certified by West Coast Labs Checkmark Certification System. Enigma Software has been awarded by various media sources such as CNN.com, USA Today, PC World and Forbes.com. Our tests have proved that SpyHunter 4 has one of the supreme detection and removal ranks for Regclean Pro.
Removal Regclean Pro with the help of technical experts
If you have difficulty to remove Regclean Pro threat by using an automatic removal tool or you have any questions, you can call our professional technical support and they will gladly help you.
Need help? Call us to get
expert technical support