How to remove Chimera Ransomware from your computer (Removal Guide)
Chimera is another ransomware program same as CryptoLocker, CryptoWall and Shade it encrypts all of the user's personal data located on the hard drive. The encryption performed by some complicated encryption algorithm like 3DES, AES or RSA which is impossible to decrypt without the unique key, which is stored on the cyber criminal's server. All of the encrypted files will have a crypt extension and user will not be able to open them. The default background image will be changed to the image that you can see below.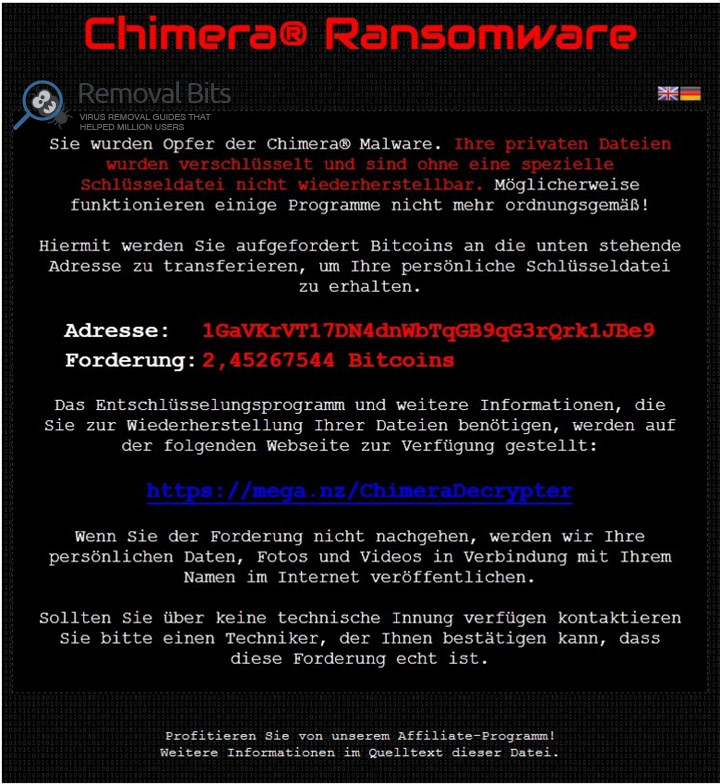 Chimera ransomware blocks all of your personal files and demands ransom in amount of 2.45267544 which is around $900 USD nowadays. If you refuse to pay ransom all of your files (music, video, pictures, and documents) will be exposed on the Internet for public access, however they will still remain encrypted on your computer. Most of the users reported getting infected with Chimera software by opening an email attachment, however a lot of victims got it together with freeware programs downloaded from unofficial websites.
Technically there is no way to decrypt encrypted files by Chimera Ransomware, it might take years to brute force the key and obviously we don't have that time. The key is unique and stored on the remote server controlled by cyber criminals. The only way to decrypt files is to use that key and as you know to get the key you need to pay ransom. However, there is one solution – restore your files from previous backup or try to restore system to previous point. In any case do not pay the ransom, because you will encourage and support cyber criminals to produce more ransomware infections and infect more users. Also, do not try to contact the authors of Chimera, first of all you will not be able to find them, instead you will find scammers and other cyber criminals that will try to steal your identity information or credit cards details. You may become a victim of credit card fraud and identity theft after providing information to cyber criminals.
So, the most popular way of Chimera Ransomware distribution is through spam email attachments, however you should also be careful with fake security alerts and updates provided by adware in pop-up windows. Also, you should not trust dubious websites. Avoid downloading freeware programs from unofficial websites. Always read carefully the end user's license agreement and select custom or advanced installation to prevent the infection by bundled malware programs. Keep you anti-virus databases up to date and don't be lazy to periodically scan your system and always scan USB Flash devices and other removable devices. Follow the guide written below to remove Chimera malware from your computer and then restore it to the previous point. Use our automatic removal tool to scan your computer for threats and remove them easily and safely.
Chimera Removal Instruction
Automatic Removal for Chimera
Symptoms of Chimera infection on your computer can be: computer crashes, unusual homepage or search engine on your browser, unwanted pop-up ads and advertising banners. We recommend to download our automatic removal tool. This removal tool has been tested for Chimera threat removal and it is easy to use.
You are running:
Windows
.
This Tool is Compatible With:





For quick and easy removal of Chimera threat, we recommend to download SpyHunter 4 removal tool. SpyHunter 4 by Enigma Software is an anti-malware utility certified by West Coast Labs Checkmark Certification System. Enigma Software has been awarded by various media sources such as CNN.com, USA Today, PC World and Forbes.com. Our tests have proved that SpyHunter 4 has one of the supreme detection and removal ranks for Chimera.
Removal Chimera with the help of technical experts
If you have difficulty to remove Chimera threat by using an automatic removal tool or you have any questions, you can call our professional technical support and they will gladly help you.
Need help? Call us to get
expert technical support