How to remove AllPCOptimizer unwanted program from your computer (PUP Uninstall Tutorial)
AllPCOptimizer is a fake PC Optimizer tool that can also be considered as Potentially Unwanted Program. Why we call it fake, because the main objective of the AllPCOptimizer is to trick user into purchasing full version of the program for $19.99. It can get into user's computer bundled together with some freeware application and will be installed without user's consent. Once installed the program will change registry settings and will be automatically launched on every system startup. AllPCOptimizer is unreliable and even malicious program that should be removed from your computer ASAP.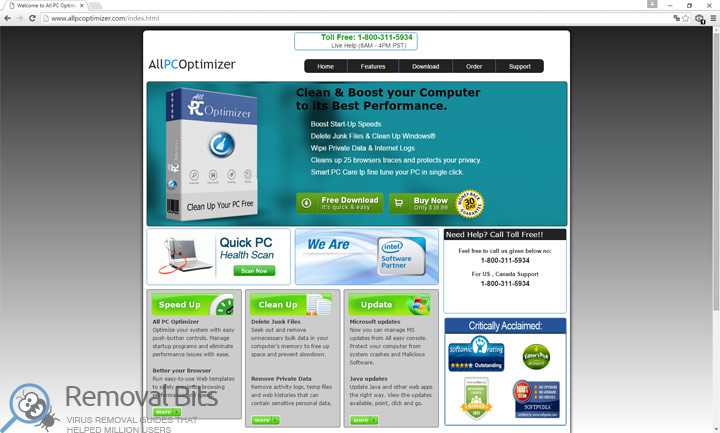 AllPCOptimizer will be displaying the list with fake errors found on your computer on every system startup. In order to fix those errors the program demands to purchase the full version. It is obvious that there are no issues on your computer and the developers just trying to scare you, so they can get some money. After purchasing the full version of the program all of the errors will be "fixed" and the program won't bother you anymore. This gives an impression that the program is working, but it's just an illusion. By purchasing the full version of the AllPCOptimizer PUP you are providing your personal information such as Full Name, Address, email, phone number and credit card information to the third party, which increases risks to get involved into credit cards frauds and identity theft crimes.
If you take a look at the AllPCOptimizer PUP website you will see that it was made by rookies and it's not working properly.  All of the badges from Softpedia, Softonic, Intel and others are completely fake. Reliable sources badges can be earned by reputable software through various tests and reviews. So, we can assume that developers of AllPCOptimizer placed those badges just to distract novice users. Also, those toll-free numbers all over the website are dangerous to call. They will try to subscribe you to some unwanted paid services and get your personal information under some pretext. As you can see it's quite dangerous to interact with AllPCOptimizer program and its developers. Removing AllPCOptimizer from your computer will completely remove those annoying fake alerts on the startup, since they are provided by AllPCOptimizer.  As we mentioned before, the main objective of those security warnings is to scare you into paying $19.99 for full version of the program.
If you have already purchased the full version of AllPCOptimizer you should immediately contact your bank and tell them that you were scammed. Also, you won't be able to completely remove AllPCOptimizer PUP from Control Panel, however if you follow our comprehensive removal guide written below you will be able to uninstall AllPCOptimizer. We also recommend to download our automatic removal tool that will scan your system for traces of AllPCOptimizer and for other malware, and clean all of it with just a few clicks.
AllPCOptimizer Removal Instruction
Automatic Removal for AllPCOptimizer
Symptoms of AllPCOptimizer infection on your computer can be: computer crashes, unusual homepage or search engine on your browser, unwanted pop-up ads and advertising banners. We recommend to download our automatic removal tool. This removal tool has been tested for AllPCOptimizer threat removal and it is easy to use.
You are running:
Windows
.
This Tool is Compatible With:





For quick and easy removal of AllPCOptimizer threat, we recommend to download SpyHunter 4 removal tool. SpyHunter 4 by Enigma Software is an anti-malware utility certified by West Coast Labs Checkmark Certification System. Enigma Software has been awarded by various media sources such as CNN.com, USA Today, PC World and Forbes.com. Our tests have proved that SpyHunter 4 has one of the supreme detection and removal ranks for AllPCOptimizer.
Removal AllPCOptimizer with the help of technical experts
If you have difficulty to remove AllPCOptimizer threat by using an automatic removal tool or you have any questions, you can call our professional technical support and they will gladly help you.
Need help? Call us to get
expert technical support