How to get rid of Spyware Clear program form your computer (PUP Removal Guide)
Spyware Clear is software developed by Spyware Clear and it is advertised as an enhancement tool for your PC protection. Developers stating that the program will provide another layer of security on your computer and help you to perform online payments securely and safely. The program is free for trial period and after that user will have to pay $19.95 for one year subscription. Do you need it? It's up to you to decide, but here what we found about this suspicious program.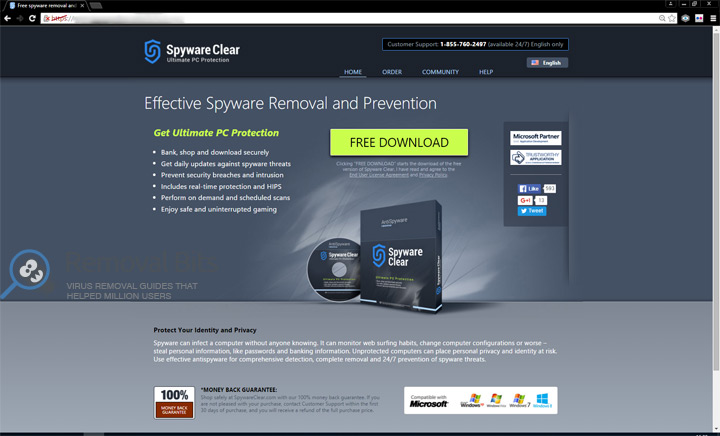 Spyware Clear is considered, by many reliable IT experts, as a potentially unwanted program (PUP) for several reasons. Also it is known as fake anti-spyware or fake system enhancement tool. The program was created by the bunch of cyber criminals with an objective to get money from trusting novice users. Spyware Clear is considered malicious because it pretends to be useful tool, but in fact it just provides users with fake system alerts and shows list of non-existing issues in order to scare user into purchasing the full version of the program. Also, you won't be able to easily remove Spyware Clear software same as any other legitimate software.
Spyware Clear is closely related with various computer viruses and adware programs that try to steal users' personal information and display endless advertisements. Spyware Clear is able to modify users' system configurations such as system registry and even change DNS settings to be able to redirect infected users to sponsored websites. Additionally to selling yearly subscriptions, the developers of this malware are making profits by redirecting users to sponsored websites. As you might already know, those redirects are very dangerous, since they can lead users to malicious websites and the malware might be downloaded and installed automatically once user visits the website.
Usually Spyware Clear is distributed via freeware applications. This method is known as bundling. When the freeware application installer contains additional programs, which will be installed along with the freeware application, if user is not paying attention. Most of those freeware programs bundled with malware are hosted on suspicious websites. Therefore, it is recommended to avoid visiting and downloading programs from those places. Also, during the installation of any software it is recommended to read the EULA and select custom or advanced installation option to be able to see the list of included programs. Spyware Clear can also be downloaded from its official website, but we do not recommend to use this program, on contrary, we recommend to get rid of it as soon as possible.
To completely uninstall Spyware Clear PUP we recommend to follow our comprehensive removal guide written below. It will help you to remove Spyware Clear malware from your computer. However, it is recommended to download and install our automatic removal tool, in order to scan your computer for additional threats that could be downloaded by Spyware Clear.
Spyware Clear Removal Instruction
Automatic Removal for Spyware Clear
Symptoms of Spyware Clear infection on your computer can be: computer crashes, unusual homepage or search engine on your browser, unwanted pop-up ads and advertising banners. We recommend to download our automatic removal tool. This removal tool has been tested for Spyware Clear threat removal and it is easy to use.
You are running:
Windows
.
This Tool is Compatible With:





For quick and easy removal of Spyware Clear threat, we recommend to download SpyHunter 4 removal tool. SpyHunter 4 by Enigma Software is an anti-malware utility certified by West Coast Labs Checkmark Certification System. Enigma Software has been awarded by various media sources such as CNN.com, USA Today, PC World and Forbes.com. Our tests have proved that SpyHunter 4 has one of the supreme detection and removal ranks for Spyware Clear.
Removal Spyware Clear with the help of technical experts
If you have difficulty to remove Spyware Clear threat by using an automatic removal tool or you have any questions, you can call our professional technical support and they will gladly help you.
Need help? Call us to get
expert technical support